Rangers now allowed to shoot tiger poachers on sight in Indian state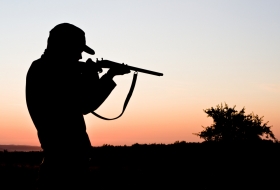 In the wake of a surge in tiger poaching, the state government of Maharashtra, India will no longer consider the shooting of wildlife poachers by forest rangers a crime, reports the Associated Press.
Rangers will not should not be "booked for human rights violations when they have taken action against poachers," said Maharashtra Forest Minister Patangrao Kadam this week.
Authorities will also offer payments to informants who provide information about wildlife poachers and smugglers. The number of rangers and jeeps in the forest will also be increased.
The move comes after the 14th tiger was killed in India this year, according to the Wildlife Protection Society of India (WSPI). 13 were killed during 2011. India's tigers are considered endangered — a 2011 census estimated the population at 1,706.
Article continues at ENN affiliate, Mongabay
Hunter image via Shutterstock