London's Eco-Friendly Olympic Games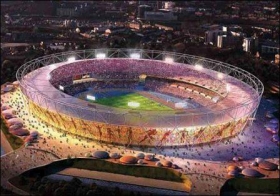 The whole world has gathered in London for the Summer Olympic Games. It is the third time this city has hosted the games, and the nation is aiming to make it unique as the first "sustainable" Olympics. In fact, while they were bidding to host their games, part of London's pitch was to make it green, claiming that carbon emissions would be reduced by 50 percent. While not all sustainability goals were met, many factors were involved in making this year's Olympics eco-friendly.
Site Remediation
The massive Olympic Park was constructed on old brownfields in Stratford on the east side of the city. There were many derelict industrial sites with a deep history of hazardous waste and resulting soil contamination. Before any new structures could be built, the site had to be prepared. Old industrial buildings were demolished, sorted, and recycled or reused onsite as fill. Over a million cubic meters of soil was also cleaned. The enormous cleanup effort will not only help in the construction of Olympic Park, but in the entire area for years to come. After the games come and go, the land will be usable for real estate and should provide a boost to the economy.
Renewable Energy
The Olympic organizers in London aimed to get 20% of the power for the games from renewable sources. However, they fell short of this target, only getting 9% from renewable sources. However, this is still better than the United Kingdom's overall percentage of energy from renewables, which is only 3%. Nevertheless, the organizers had to find other ways to reduce the carbon footprint.
Green Building
The new structures at Olympic Park were built with future use in mind. They employ measures to make them as energy efficient as possible. Smart technology such as real-time venue energy management systems were installed, which send notifications when energy usage goes beyond a trigger point, helping to identify unnecessary energy use. The buildings also have state of the art insulating and draft resistance.
Park Design
The Olympic Park is also designed to maximize green spaces. Large sections are devoted to natural habitat with pleasant walking trails throughout. Multiple waterways that run through the park are also highlighted. When the games conclude, this park will surely be a crowning jewel in the city of London.
For more information: http://www.london2012.com/about-us/sustainability/
Image credit: http://www.london-attractions.info/olympic-stadium.htm