In Tapping REI Chief for Interior Secretary, Obama Sends Latest Signal on Climate Agenda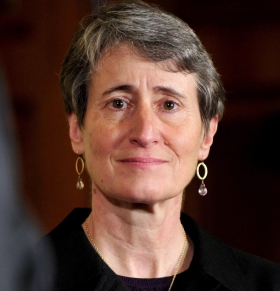 On Wednesday, President Barack Obama nominated REI CEO Sally Jewell to be the next Secretary of the Interior.
Jewell, who took over REI in 2005, has a record both as a successful businesswoman and a longtime conservation advocate. REI, which was founded in 1938, grew rapidly under Jewell's tenure, and the company today operates over 100 stores in around 30 states.
Jewell's resume, which includes a stint for the Mobil oil company as well as 20 years in the banking sector, belies simple categorization of her as a environmentalist. Still, Jewell's record at REI suggests that she will add another environmentally conscientious voice to the group of advisors on which the president will rely when crafting U.S. energy policy during his second term.
Jewell has received a slew of accolades for her environmental leadership, including the 2009 Rachel Carson Award for environmental conservation from the Audubon Society and the 2009 Green Globe – Environmental Catalyst Award from King County, Wash., among others.
Article continues at ENN affiliate, Triple Pundit
Image credit: Ron Sachs /EPA /Landov