Obama allocates funds to help communities build climate adaptation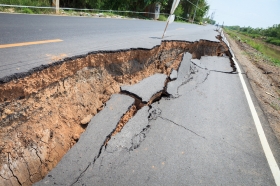 More extreme droughts, floods and wildfires – these are just some of the impacts of climate change that won't just occur in the distant future to our great-great grandchildren, but are happening now. To address the changing climate's current effects on communities in the U.S., President Barack Obama announced a plan to strengthen national infrastructure and help cities, states and tribal communities better prepare for and recover from natural disasters.
"Climate change poses a direct threat to the infrastructure of America that we need to stay competitive in this 21st-century economy," Obama said last week at a meeting of the Task Force on Climate Preparedness and Resilience. "That means that we should see this as an opportunity to do what we should be doing anyway, and that's modernizing our infrastructure, modernizing our roads, modernizing our bridges, power grids, our transit systems, and making sure that they're more resilient. That's going to be good for commerce, and it's obviously going to be good for communities."
Obama unveiled over $260 million in federal funds to help communities build their climate adaptation and resilience. The U.S. Geological Survey and other federal agencies are dedicating $13 million to develop an advanced 3-D mapping tool of the country that communities can use to identify which areas and infrastructure are at risk from changing climatic conditions, the White House said in a statement. The U.S. Department of Agriculture (USDA) will also be spending $236 million to improve rural electric infrastructure in eight states – an investment that will not only allow the deployment of smart grid technologies, but can also attract businesses and residents to these communities, according to the White House.
The USDA is also setting aside additional funding to safeguard drinking water in rural communities during droughts, and the Bureau of Indian Affairs will dedicate $10 million to provide climate adaptation trainings to tribes.
Continue reading at ENN affiliate, Triple Pundit.
Cracked road image via Shutterstock.