Monarch Butterflies need Endangered Species Act protection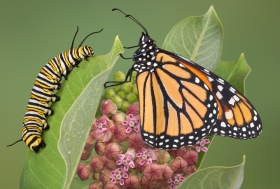 As monarch butterflies are beginning their epic migration from Canada and the U.S. to Mexico for the winter, concerns about the drastic rate at which they're disappearing from the landscape have led environmental and health organizations to petition the government for federal protection.
This week, the Center for Biological Diversity, Center for Food Safety, Xerces Society and monarch scientist Dr. Lincoln Brower filed a legal petition with the U.S. Fish and Wildlife Service seeking protection for monarchs under the Endangered Species Act.
"Monarchs are in a deadly free fall and the threats they face are now so large in scale that Endangered Species Act protection is needed sooner rather than later, while there is still time to reverse the severe decline in the heart of their range," Brower, who has been studying the species since 1954, said in a statement.
According to the petitioners, monarchs have declined by a shocking 90 percent in less than 20 years and "may have lost more than 165 million acres of habitat - an area about the size of Texas - including nearly a third of their summer breeding grounds." Last winter, the numbers of these iconic butterflies reached a record low, raising worries about their future survival.
According to the Xerces Society, in the 1990s, an estimated one billion monarchs made their way from the north to the oyamel fir forests where they spend their winters sheltered by the trees, while another million were believed to spend the winter at sites in California. Now, scientists believe there are only 33 million left.
Monarch butterfly and a Monarch caterpillar on milkweed plant image via Shutterstock.
Read more at ENN Affiliate, Care2.