Making Carpet Environmentally Friendly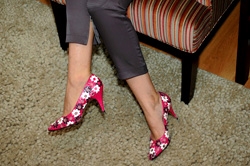 Few building products are as ubiquitous as carpets and rugs, which cover 70% of U.S. floors, according to the Carpet and Rug Institute, the industry's trade association. That ubiquity has come with some notoriety, as carpet has been on the front lines of several environmental skirmishes.
Emissions of volatile organic compounds (VOCs) and other potentially toxic components from carpets have been widely recognized as an indoor air quality problem. The estimated five billion pounds (2 billion kg) of carpet that is discarded every year in the U.S. has been targeted by government agencies and environmental groups as an unacceptably big chunk of the solid waste stream. Furthermore, the high petrochemical content, and shorter lifespan and more intense cleaning needs of carpet, when compared with other flooring materials, such as wood, linoleum, and polished concrete, have made it a symbol of the consumptive excess of the built environment in the U.S.
However, carpet has come a long way as a building material over the last two decades, with awareness of these concerns forcing manufacturers to make changes, and growing environmental awareness leading most manufacturers to make sustainability part of their agenda. "I don't think there is a commercial product segment that is greener than carpet," said Penny Bonda, FASID, an interior designer and industry observer. "Carpet companies have been tripping over themselves to be the greenest ever since Ray Anderson declared he was climbing "˜Mount Sustainability' in 1994."
Anderson, founder and chairman of Interface, one of the largest carpet manufacturers, pledged that year to turn his company into a force for environmental sustainability, and his commitment has since transcended his industry, inspiring many other companies and individuals. At the same time, other major carpet manufacturers including C&A, Shaw, Milliken, and Mohawk have stepped up with their own environmental initiatives. Numerous other smaller companies have raised the bar with niche offerings that further expand the environmental carpet universe. This article surveys several of the key environmental areas in the carpet industry, offering perspective on both the commercial and the residential sides of the market, with a focus on the largest manufacturers.
Carpet Materials
The fundamentals of carpet have not changed in the thousands of years they have been in use: whether animal hides or synthetic products, carpets have a face of soft fibers held together into a sheet by a backing. The most common face fibers today are various types of nylon and polyolefins, with nylon being especially common in commercial, institutional, and hospitality applications and polyolefins being more common in residential settings, which compose the bulk of the carpet market. Both of these fibers are thermoplastics, made from petrochemicals, with a long history of use. Neither are known for causing environmental or health problems directly but do contribute to pollution due to extraction of fossil fuels and manufacturing. Polyester (another thermoplastic) and wool each claim a slice of the market as well.
In most carpets, the face fiber is tufted, or punched through a primary backing usually made of polypropylene. The backing that is visible on the underside of carpet is the secondary backing, which adds weight and structural integrity to the carpet by locking the face fibers into the primary backing. (When carpet companies refer simply to backing, they generally mean the secondary backing.) The most common backing materials are styrene butadiene latex (SB latex) for broadloom carpet, and vinyl for carpet tile. The backing materials, along with supplying most of a carpet's weight, often bring environmental and health issues. SB latex, for example, is made of several toxic ingredients, and its offgassing is frequently the source of the distinct new-carpet smell. Polyvinyl chloride (PVC), one of the vinyl compounds commonly used as a backing, carries health concerns associated with emissions from manufacturing and end-of-life disposal (see EBN Vol. 3, No. 1).
In residential and hospitality settings, where a plush feel is desired, carpet is usually installed over a separate cushion. Because the rooms are relatively small, both the carpet and cushion can be installed using mechanical fasteners (tac-strips) at the perimeter. Commercial carpet for workspaces is installed without a cushion, but some products have a softer secondary backing to enhance their resilience.
Commercial carpet is typically adhered directly to the subfloor with wet-applied adhesives or with adhesives that are pre-applied to the carpet. The most common concern with these adhesives is VOC emissions, and numerous low-VOC solutions are available. A number of companies also tout adhesives, particularly with carpet tile products, that resist slippage on the horizontal plane but can be pulled up vertically, thus facilitating disassembly and replacement.
Antimicrobials
In addition to these primary carpet materials, countless chemicals are used in making carpet to achieve specific effects, such as color, stain resistance, and prevention of microbial growth. While most of these are beyond the scope of this article, the use of antimicrobial chemicals is worth a closer look. Since carpet absorbs dirt, water, and microbes much more readily than hard-surface flooring, yet is frequently used in institutional and healthcare facilities, antimicrobials have long been added to carpets to prevent fungal and bacterial growth.
John Bradford, vice president of research and development for Interface, said that his company adds Intersept, a proprietary antimicrobial, to all of its carpet tiles. "It's a preservative for the carpet from mold and bacteria," he said. "Intersept has the toxicity of table salt and doesn't use any heavy metals. It's equivalent to an antibacterial soap." Similarly, Milliken uses a proprietary antimicrobial silver-based formula that is "standard on 100% of products," according to Bill Gregory, director of sustainable strategies for the company. Dobbin Callahan, general manager of government markets for Tandus, which owns C&A and two other carpet manufacturing arms, said that Tandus was opposed to the use of antimicrobials in carpet. "By not using antimicrobials, we avoid putting 11 tons of pesticides in our offices, schools, and healthcare facilities every year," he said.
"Carpet manufacturers are split on this, while some people in the industry feel that it's much ado about nothing on both sides," said Tom Lent, policy director for the nonprofit Healthy Building Network (HBN), which opposes antimicrobials in carpet. Lent noted that the concern arose from possible parallels with overuse of antibiotics giving rise to drug-resistant bacteria. In a December 2006 memo, healthcare giant and influential carpet buyer Kaiser Permanente took a position against antimicrobials in carpet. The memo states that "review of current scientific literature reveals no evidence that "¦ fabrics containing antimicrobials assist in preventing infections." Noting the toxicity of some antimicrobials, the memo adds, "It would be prudent to prevent a known hazardous material from entering into a product's life cycle during manufacture, use, maintenance, or final disposal." Interface's Bradford shrugged off the memo, pointing to benefits he says are demonstrated by his company's own investigation. Whichever side one takes, the use of antimicrobials in building materials is an emerging issue that will likely see more debate in coming years.
Carpet Recycling
At C&A's Dalton, Georgia carpet reclamation facility, pre- and post-consumer carpet is pelletized and, as shown here, extruded into a continuous pliable 3-inch (8-cm) rope, which is then transported by conveyor belt to the calender line, steel cylinders which roll the material into sheets of ER3, C&A's 100% recycled content PVC backing.
In carpeting, as with many other industries, recycling has consistently defined the environmental agenda. A number of companies are working to make their carpets recyclable while at the same time packing their carpets with recycled content. While these two agendas may seem like a match made in heaven, they rarely line up together as well as consumers might be led to believe.
The Carpet and Rug Institute (CRI), along with several government entities and nonprofit organizations, worked together to create the Carpet America Recovery Effort (CARE) in 2002. Those groups established CARE through a memorandum of understanding that recognized the environmental cost of the estimated 5 billion pounds (2 billion kg) of used carpet that is discarded each year in the U.S. and usually landfilled. CARE is working to divert a growing amount of carpet from landfills; however, the results so far are lagging behind expectations. Surveys show that 261 million pounds (97.4 million kg) of carpet were diverted in 2006, CARE's executive director, Bob Peoples, told EBN, representing a 16% increase over 2005—strong growth but well short of the 100% increase forecast by Peoples last year (see EBN Vol. 15, No. 7).
Select Carpet Manufacturers and Environmental Attributes
CARE works to divert carpet from the waste stream by helping to establish collection sites—there are now 52 nationwide, Peoples said—and developing outlets for used carpet in waste-to-energy plants, in cement kilns, and as recycled content in products such as shingles and railroad ties. The main obstacle to carpet recycling, however, is that it's a lot like unscrambling an egg. The face fiber and the backing are distinct raw materials that, while serving different functions in the finished product, are tightly combined with each other. In addition, carpets in use are virtually a sponge for myriad forms of dirt and soil. Nylon fiber for carpet is extruded as fine hairs from high-purity resin, making any kind of contamination an obstacle to recycling nylon into more nylon.
Because separating the materials in a carpet with any degree of purity is so difficult, carpet is usually treated as one material for recycling purposes, which limits its usefulness, as most applications depend on relatively pure sources of material. Because of the petroleum content of carpet and the obstacles to recycling, much used carpet is incinerated in facilities that produce electricity, and some is incinerated in cement kilns.
C&A, owned by the Tandus Group, offers products representing the next step up. Since 1995—earlier than any other manufacturer—C&A has used manufacturing scraps along with post-consumer carpet to make plastic products, such as traffic stops, out of its commingled nylon fiber and vinyl backing. Products like those are a key part of CARE's effort to find markets for carpet waste. However, critics from multiple sides have derided that kind of recycling as "downcycling," particularly since the nylon, a higher-value polymer, is inextricably mixed with the lower-value PVC. In fact, Tandus, despite its early work in carpet recycling, withdrew its support of CARE in 2006 after calling for a greater focus on recycling carpet into more carpet (see EBN Vol. 15, No. 7).
Carpet into carpet
Following its initial exploration of carpet recycling, C&A, which makes carpet tile and 6-foot (1.8-m) roll carpet at its Dalton, Georgia, plant, developed a process for recycling old carpet into new carpet backing. Its ER3 vinyl backing with 100% recycled content is standard on all of its carpet. To acquire feedstock for the backing, C&A accepts any vinyl-backed carpet from any manufacturer. It also recycles pre-consumer waste produced by the installation of vinyl fabric in automobile interiors. The feedstock is turned into pellets, then melted and extruded before being rolled into carpet backing—all on a proprietary system developed by C&A. The nylon face fiber is integrated into the backing, offering reinforcement to the backing.
Although only a fraction of its business is devoted to it, C&A also offers Ethos, an alternative backing system using 91% post-consumer polyvinyl butyral (PVB), a non-chlorinated vinyl. PVB is used as safety film in automobile glass, and C&A acquires post-consumer PVB when that glass is ground up to be recycled, diverting it from the waste stream. Ethos is particularly popular in the healthcare industry, according to C&A's Callahan, and has wider potential. As with its ER3 products, C&A can recycle Ethos into new carpet at the end of its life.
Everstrand residential broadloom carpet from the Mohawk Group uses face fiber that is 100% recycled from soda bottles and other PET containers.
The Mohawk Group, the second-largest carpet and rug maker in the U.S., is perhaps most obviously championing the recyclability of its carpet tile, starting with its name—Encycle. All of the carpet brands under the Mohawk Group umbrella, including Bigelow, Durkan, Karastan, and Lees, are switching their carpet tile to Encycle, Mohawk's new backing system; the phasing in will be complete by late 2008, said Diann Barbacci, vice president for sustainable design at Mohawk. Encycle uses ethylene-vinyl acetate (EVA), a non-chlorinated vinyl, for its backing.
Encycle contains 35% pre-consumer content, in the form of flyash, a waste product from coal-fired power plants. One of the nylon fibers used by Mohawk contains 15% pre-consumer content. However, while Mohawk touts the "recyclability" of Encycle, the company is not currently recycling it and has no definite plans to do so. Federal Trade Commission guidelines require companies to use the term "recyclable" only if a product can be recycled in an established program. Explaining how it complies with those guidelines, Barbacci told EBN that Mohawk has a proven process capable of recycling Encycle into new carpet backing, based on its laboratory work. However, developing a system to separate face fiber from backing isn't practical for Mohawk, Barbacci said: "So much energy would be needed."
Fiber into fiber
Carpet recycling programs such as C&A's and Mohawk's reduce the nylon face fiber into less-valuable backing. However, one manufacturer, Shaw Industries, says that its carpet is recyclable into new carpet, with face fiber going into face fiber and backing going into backing.
Shaw is the largest carpet company in the world, with sales at over $5 billion annually. The company offers carpet tile, as well as 12- and 15-foot (3.7- and 4.8-m) broadloom carpet. In residential broadloom carpet, Shaw's standard backing is latex, because "it's cheap," said Steve Bradfield, director of environmental affairs for the company. As a thermoset plastic, latex is not recyclable and usually ends up landfilled or, if diverted from the landfill, incinerated in waste-to-energy plants.
Shaw Contract is the commercial brand carpet that Shaw offers with its Ecoworx backing system on carpet tile, which Shaw has designed for a closed-loop recycling process. Ecoworx backing is a polyolefin—a thermoplastic that can be melted and reextruded. The bigger recycling challenge is the nylon 6 face fiber used in the carpet, and the key to Shaw's claims that it can recycle nylon 6 is its Evergreen Nylon Recycling facility in Augusta, Georgia. Evergreen, built in 1999 by AlliedSignal and DSM Chemicals North America, was expected to process 200 million pounds (90 million kg) of used carpet annually, to produce about 100 million pounds (45 million kg) of caprolactam, a monomer used to synthesize nylon 6 (see EBN Vol. 8, No. 9).
The plant, one of two of its kind in North America, and according to Shaw the largest by far, employs selective pyrolysis, which uses heat and steam to melt and separate different compounds used in the carpet backing and fiber. Evergreen's owners shut it down in August 2001 due to business conditions and higher-than-expected production costs (see EBN Vol. 10, No. 10), and Shaw bought the plant from them, along with all of Honeywell's virgin nylon production capacity, closing the deal in April 2006.
Shaw reopened the Evergreen plant in February 2007, according to Bradfield, running on a mixture of 90% post-consumer and 10% pre-consumer material. Bradfield declined to discuss Evergreen's current production but said output so far was in the "multiple millions of pounds. We have some way to go to get to the original design, which was 100 million pounds" in annual capacity, he said, but he claimed the process was economical.
Although Shaw is using Evergreen to tout the recyclability of its nylon 6 carpet yarns, such as Anso, its residential brand, it has not set a standard for Anso's recycled content. Bradfield acknowledged there had been some bumps in the road to reopening Evergreen but said, "anytime you take a mothballed chemical plant and restart it, there are lots of things to replace and refurbish." However, the unwillingness of Shaw, which is owned by Berkshire Hathaway, a public company, to disclose production details at Evergreen has some observers in the carpet industry skeptical that it will produce recycled nylon in meaningful volumes. Noting Shaw's purchase of conventional nylon production capacity as part of its deal with Honeywell, C&A's Callahan speculated, "They bought it for capacity and are marketing the part of it that's recyclable."
While applauding recycling efforts that reduce dependence on oil, Interface's Bradford noted that the depolymerization system used at Evergreen has the largest environmental footprint in terms of its life-cycle, compared with other potential nylon recycling methods, including mechanical separation of materials and melting. "It pencils out when oil is very expensive," said Bradford. Interface has invested in mechanical separation of nylon fiber from backing material, which would enable it to simply remelt the nylon rather than depolymerizing it. "That method has the smallest footprint and is the one that Mother Nature would smile upon," said Bradford. He did not offer details on when or how Interface would offer that kind of recycling, however.
Biobased Materials
Carpet Considerations for Building Projects
Even in carpet products with recycled content, the majority of the raw material used, particularly in the face fiber, is derived from petroleum. A number of companies have looked for paths to replacing that petrochemical input with agricultural input, so that even if virgin fiber is required, it may at least have a renewable source. A few carpet manufacturers also offer wool fiber in otherwise synthetic carpet, and some niche manufacturers offer completely natural products with wool fiber.
Replacing petrochemicals
Interface has been among the leaders in the carpet industry in using polylactic acid (PLA), a biodegradable, thermoplastic polyester commonly derived from cornstarch. Interface currently uses PLA in a number of carpet tile products, said Bradford, noting, "It's in a hybrid yarn system—it's not resilient enough to be a singular fiber in a system." He added, "We're working on some ways to make it more resilient so that it may be a singular yarn type down the road. We're having to take some very new approaches to make that happen." Interface also offers a fabric, Terratex, that is 100% PLA fiber.
Mohawk Carpet plans this fall to offer SmartStrand, a carpet fiber made with DuPont's Sorona polymer, which will be introduced in Mohawk's New Generation line of high-end and mid-range residential carpets. Those carpets currently use fiber made from 100% virgin petrochemical polytrimethylene terephthalate, or PTT, which is similar to polyester. According to Jenny Cross, brand manager for Mohawk Residential, DuPont "is making one of the two monomers [required to make PTT] from corn. At the end of the day, the polymer itself will be 37% corn-based by weight." The fiber has a resiliency similar to that of nylon and is stain- and bleach-resistant, said Cross. Although the fiber reduces the petrochemical content of the carpet, it will not be compostable, unlike some biobased plastic products, and Mohawk does not have plans for recycling the used product.
Universal Textile Technologies (UTT), based in Dalton, Georgia, provides the carpet industry with several backing systems, including BioCel, a polyurethane backing in which a soy-based polyol replaces some of the petrochemical content of conventional polyurethane. Polyurethane carpet backing is not recyclable, and so, while the soy content in the backing reduces petrochemical content, it does not offer a closed-loop solution.
Despite the attraction of growing our building materials instead of extracting them, some biobased materials, including UTT's carpet with BioCel, and wool carpet, perform poorly in terms of life-cycle assessment (see below). Reflecting on the poor performance of agricultural-based building products, due in large part to chemically intensive farming practices, HBN's Lent commented, "We're going to find an increasing need to look critically at agricultural practices with building materials. There are significant challenges, given the way that we raise crops now."
Life-Cycle Assessment
Interior designer Bonda argues that in the carpet world "more and more people are starting to emphasize the larger picture." In recent years, she said, "the message has been responsible carpet manufacturing and emissions and recycled content—all those things coupled together with the traditional concerns that the product works aesthetically and functionally." Now, Bonda said, the trend is "not how much recycled content, but how did it come about, and what's the full picture on it?"
Interface, which, like C&A, offers more recycled content in its primary commercial products than most other companies, does so in part by relying on PVC, one of the most vilified materials in the green building world. Interface's Bradford defends that choice of material based in part on life-cycle assessment. "If you look at the footprints of vinyl versus the alternatives, the two smallest footprints in carpet tile are bitumen and vinyl, by a pretty large factor," he said. "The reason for that is that half of vinyl comes from salt and half from oil. Every other alternative has 80% coming from oil."
Life-cycle assessment offers a systematic way to evaluate multiple environmental and human health impacts together. The practice has grown in leaps and bounds in recent years, and with the release of BEES 4.0 in May 2007 (see BEES 4.0 LCA Software Continues Evolution), architects and designers choosing carpet have a detailed tool to guide them. BEES, the Building for Environmental and Economic Sustainability software from the National Institute of Standards, is a free application measuring the environmental and health performance of building products using life-cycle assessment standards. Combining hard data with somewhat subjective weighting of that data, BEES offers an impartial look at several flooring products. Unfortunately, only a handful of the currently available flooring products are represented in BEES, but most of them are carpet products. EBN used BEES to evaluate the relative performance of some of the products covered in this article. See the sidebar on page 16 for results and commentary.
Certification of Claims
Amid the claims being made for various carpet products, carpet buyers can fall back on the several certification programs that exist to verify manufacturer claims. At the same time, it is important to keep in mind that, as with life-cycle assessment, each certification program has certain values embedded in it, which may skew results toward or away from the values of the team selecting carpet.
Indoor air quality
In 1992, following several cases in which chemical offgassing from carpets was implicated in sick building syndrome, CRI implemented the Green Label program, a voluntary emissions testing and labeling program. Emissions from carpets, carpet pads, and adhesives carrying the CRI Green Label are lower than allowable thresholds in terms of total volatile organic compounds (TVOCs), formaldehyde, and several other substances (see EBN Vol. 15, No. 9). In 2004, CRI released a stronger, more comprehensive version of the program, Green Label Plus (see EBN Vol. 13, No. 7), which meets California's Section 01350 specification. Most if not all of the major carpet manufacturers offer products meeting Green Label Plus standards.
Although Green Label and Green Label Plus have become recognized standards for indoor air quality in the carpet industry, HBN's Lent argued that those labels don't do enough. "My concern," said Lent, "is that users are exposed to more chemicals than VOCs. VOCs are a big problem initially," as new carpet offgases, he said, but they are "generally agreed to be a declining problem over time." Lent supported broadening this focus: "Other hazardous contents that users are exposed to include semi-volatiles, flame retardants, and perfluorocarbons, which are not addressed by any certifications now."
Although there have been discussions around enhancing California's Section 01350 to address some of those toxins, occupants now have little protection from those chemicals of concern, other than individual product research and reliance on manufacturer information.
Multiple-attribute certification
Product certification programs offering multiple-attribute evaluation also offer a way for consumers and designers to find carpet products that meet a more holistic set of standards. Cradle to Cradle (C2C) certification from McDonough Braungart Design Chemistry is one such multiple-attribute program (see EBN Vol. 16, No. 2), and Shaw trumpets its participation in it. According to James Ewell, a project manager for MBDC, Shaw is in the process of certifying its EcoSolution Q face fiber, its EcoWorx backing system, and a broadloom product. The only current C2C-certified carpet product is Ultron nylon 6,6 carpet fiber from Solutia, which is certified as a "technical nutrient." While that certification indicates the feasibility of recycling Ultron, it's another matter to recycle carpet made with Ultron. Even Shaw only recycles nylon 6 fiber, while downcycling nylon 6,6 into automotive parts, according to Shaw's Bradfield.
With its Evergreen plant, Shaw Industries says it has a process to recycle used nylon and include post-consumer nylon in its EcoSolution Q nylon, shown here in carpet tile from Shaw Contract Group.
Currently the most significant carpet standards are California Gold and NSF 140, both of which are in ongoing development and may soon merge. Previously, Emeryville, California-based Scientific Certification Systems (SCS) worked with several carpet manufacturers to develop an Environmentally Preferable Product (EPP) standard for carpet in 2002. However, several manufacturers had concerns, especially about the recycled-content requirements in SCS's standard, and in 2004 the Carpet and Rug Institute began work on a new standard through the Institute for Market Transformation to Sustainability (MTS). Following several iterations as part of MTS' Sustainable Textile Standard, management of the consensus review and approval process was transferred to NSF International, which released it for public comment in December 2005 as the Sustainable Carpet Assessment Standard (Draft NSF 140-2005). NSF 140 is due to be released officially in November 2007. The standard ranks products as bronze, silver, gold, or platinum, evaluating them in terms of sustainability in the areas of public and environmental health, recycled and biobased content, manufacturing process, and end-of-life management. Bringing its EPP standard up to date, SCS made that standard equivalent to the higher two levels of NSF 140 and certifies products to the standard through its Sustainable Choice program.
Meanwhile California has been developing its own purchase specification for state agencies, building on the draft that is now NSF 140, adding 14 requirements, eliminating the bronze and silver levels, and requiring third-party certification of each point. The resulting California Gold standard is thus similar to SCS's EPP standard and to the higher two levels of NSF 140 (and is also certified under SCS' Sustainable Choice program), but it offers more rigor. According to Jaclyn Bowen, a standards specialist with NSF, California has been involved with the NSF development process and is requesting that its new requirements also become requirements in NSF 140. The two groups are close to an agreement, Bowen told EBN.
Among the carpet standards, California Gold's Platinum level is the "most rigorous," said Winslow. Lent agreed, while noting that "for laudable reasons they set recycled content minimums, but there are some unintended consequences of that that I don't like." The California standards require a minimum 10% post-consumer recycled content, which, despite the industry's focus on carpet recycling, has been a challenge for some manufacturers. "The only carpets that meet that level today are PVC-backed carpets," said Shaw's Bradfield. "So what California has done is to create a preference for PVC."
While manufacturers like C&A and Interface can meet the standards with their vinyl products, other manufacturers have used recycled paper, flyash, ground automobile glass, and other additives that don't necessarily improve overall environmental performance. However, a product like C&A's Ethos carpet tile with PVB backing has achieved California Platinum with a high level of post-consumer recycled content, without PVC, and with strong life-cycle assessment results. Furthermore, if Shaw delivers on its promise of carpet recycling through Evergreen, it shouldn't have a problem meeting the standards.
Final Thoughts
A lot has changed since EBN's last feature article on carpet 13 years ago (see EBN Vol. 3, No. 6)—the industry is more environmentally aware and competitive. It is offering more options designed to meet the needs of green builders, as well as better tools for evaluating carpet, including life-cycle assessment software, and broad-based certification programs. At the same time, the industry is still very resource-intensive, and its products contribute to a variety of environmental and indoor air quality problems.
There are bright spots in the industry. To name a few: C&A's Ethos carpet backing uses a high level of non-PVC recycled content, offers a closed-loop recycling process, and performs well in life-cycle assessments. Interface, like many companies, continues to reduce its impact, pushing to eliminate negative environmental impacts by 2020. Shaw is aiming to reduce the significant, yet largely untouched, environmental footprint of nylon face fiber by creating a closed-loop recycling process. Yet improving carpet isn't just up to manufacturers—it is designers, purchasers, and consumers who make carpet the popular floorcovering that it is, and it's up to this group to use carpeting wisely and to continue to ask manufacturers to improve.
""
For more information:
Carpet America Recovery Effort
www.carpetrecovery.org
Carpet and Rug Institute
www.carpet-rug.com
NSF International
www.nsf.org
C&A Floorcovering
www.tandus.com
Earth Weave Carpet Mills, Inc.
www.earthweave.com
Interface, Inc.
www.interfaceflor.com
Milliken & Company
www.millikencarpet.com
The Mohawk Group
www.themohawkgroup.com
NSF International
www.nsf.org
Scientific Certification Systems
www.scscertified.com
The graph below shows overall environmental performance of most of the brand-name carpet products listed in the BEES 4.0 (Building for Environmental and Economic Sustainability) life-cycle assessment software. BEES depends on voluntary participation of manufacturers, and some manufacturers discussed in this article, such as Mohawk and Shaw, are not current participants. In addition to several broadloom and carpet tile products, the chart also compares Forbo's Marmoleum (linoleum), generic vinyl composition tile, and generic cork parquet flooring. The analysis assumed a 1,000-mile (1,600 km) transport distance from the plant to the project site and used the BEES Stakeholder Panel's weighting of the various attributes.
Note: Lower scores are better. Not all environmental impacts of concern are reflected accurately in BEES, so results should not be considered authoritative.
The actual BEES data provides much more detail for those making purchasing decisions, but some results bearing on issues discussed in this article are worth noting. Interface's and C&A's carpet tile products with recycled PVC content performed well overall, despite human health concerns with PVC. However, C&A's Ethos, with PVB replacing PVC, outperformed C&A's PVC product, ER3 (comparing tile to tile and broadloom to broadloom).
Agricultural practices, including contribution to eutrophication, global warming, smog, and ecological toxicity, hurt both generic wool carpet and UTT's soy-based carpet, which both performed poorly. Wool's performance could probably be improved significantly with better farming practices. Also, any assumptions in the data that BEES relies on can have a disproportionate effect. If a wool carpet manufacturer were to participate in BEES, it would be motivated to provide more accurate data that might reflect better on wool.
Through Interface's Cool Carpet program, all of its commercial carpet tiles are climate neutral—Interface buys carbon offsets to negate the impact of its manufacturing on global warming (see EBN Vol. 16, No. 3), giving those products a leg up in BEES. C&A and Bentley Prince Street, which is owned by Interface, offer a climate neutral option with their products, but that was not chosen for this analysis. Whether or not carbon offsets come standard with a product, however, a purchaser could use information such as that in BEES to buy carbon offsets.
Looking at scores in specific environmental impact categories is a fascinating aspect of BEES, and anyone making purchase or specification decisions based on BEES should look past the overall scores to individual scores that may reveal concerns for a particular project, depending on the values of the project team. (See BEES 4.0 LCA Software Continues Evolution for more on BEES 4.0)