Wallcovering Makers Unravel Eco-Friendly, Durable Options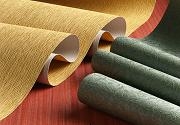 NATIONAL REPORT—When it comes to wallcoverings, designers, hotel owners, purchasing agents and others have not always had the most environmentally friendly choices. Vinyl—polyvinyl chloride or PVC—years ago included heavy metals and solvent inks. Today, however, it is a different world and 90 percent of heavy metals have been eliminated and water-based inks are used. Some wallcovering makers still tout vinyl's durability and value, and one has even started recycling it, but others are now offering non-PVC alternatives.

One company that has made a big splash at trade shows in the past year with its recycling initiative is LSI Wallcovering, Louisville, Ky. Second-Look is the name of its program that reclaims previously installed vinyl wallcovering and turns it into new product with at least 20 percent total recycled content and 10 percent post-consumer. The recycled collections are available through LSI's Versa, Cirqa and Plexus distributors. There are approximately 160 design options.

"We are able to manufacture most of our designs with Second-Look," says Beth Rich, creative marketing director for the program.



Rich says LSI is the only wallcovering manufacturer currently retrieving post-consumer material from the field. LSI has established a proprietary process for recycling old vinyl and will do it in-house. The company is currently working with a Days Inn in Michigan to recover 10,000 yards of old material for recycling.

"They will use our product to replace it," Rich says. "We will ship them the containers for the old wallcovering."

Resin Includes Natural Product

LSI is a strong proponent of vinyl. The resin it uses for its wallcoverings is petroleum-based but also 40 percent salt.

"The adhesives we use are all water-based and always have been," Rich says.

LSI has priced its Second-Look wallcoverings the same as its other lines and Rich says the response from the lodging industry has been strong so far. The challenge, she adds, is getting hoteliers to send the old material back.

One of the greatest concerns with most wallcoverings is their potential for emitting volatile organic compounds (VOCs). Rich says, however, that Second-Look meets indoor air quality requirements. Another concern, especially in hot and humid climates, is wallcovering's inability to allow air to pass through it. To get past this challenge that is common with vinyl, LSI's wallcoverings are backed with polyurethane and poked with microscopic holes.

LSI also offers a non-PVC product but Rich says, "They tend to be more expensive, not as durable, and cellulose-based, which means they cannot be embossed and used in heavy traffic areas."

Reed Jute from Roos International's Yahgi collection

Another Take on Non-PVC

Deborah Roos, vice president of Roos International Ltd. Inc., Deerfield Beach, Fla., is a strong proponent of her company's non-PVC EnVision line of wallcoverings. It combines the use of a textural, natural fibrous polyester cellulose substrate (new non-woven) with clean, contemporary colors and designs. With EnVision, Roos says there are no VOCs, no heavy metals, renewable and recycled content is used, and it is printed with water-based inks. EnVision is available in numerous colorways for each pattern.

"Our EnVision line meets all the durability characteristics of commercial vinyl," Roos says.

Roos says her company has specialized in environmentally-friendly wallcoverings since 1986 but it has been a challenge getting the lodging industry to accept alternative products. That is beginning to change, however.

"We are getting an increasing number of requests for green products," says Roos, who adds that her company eventually will start a recycling take-back program for its Envision line. "We are trying to change a mindset and a paradigm."

In addition to EnVision, Roos International offers glass textile wallcoverings that can be painted over and over, further extending product life and reducing landfill impact. The company's Yahgi collection of grasscloth wallcoverings also has environmental benefits; it is made from all-natural materials, renewable resources, and is biodegradable.

Anyone working on a LEED project should ask whether or not a wallcovering helps one qualify for LEED credits. Second-Look, for example, does because of its recycled content, and EnVision does because of its low-emitting attributes.

LSI Wallcovering and Roos International are just two of a number of wallcovering manufacturers that offer environmentally-friendly options. A few other examples include: Avignon Specialty and Contract Wallcoverings, Phillip Jeffries, and MDC Wallcoverings.

Glenn Hasek can be reached at editor@greenlodgingnews.com.
Home | Privacy Policy | Terms of Use | Advertising