Eco-show launches four-city expansion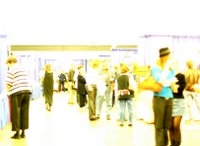 Go Green Expo, a business-to-business and consumer showcase for green living products and services, has announced a four-city tour beginning in January 2009 that includes Los Angeles, Philadelphia, New York City and Atlanta. The event debuted in New York this year during Earth Week.

"There is no question that the time to act is now," says Bradford Rand, president and CEO of Go Green Expo. "By bringing this forum for showcasing sustainability to multiple cities we hope to encourage and empower more people and businesses to take action for a better planet."

In addition, Go Green Expo has announced the addition of a major sponsor, Perf Go Green, a maker of biodegradable plastics.


The three-day events will showcase Earth-friendly products and services as well as education seminars and panels. Areas of focus include business, electronics, energy conservation, recycling, food, home building and more.

Organizers of Go Green Expo have taken steps to reduce the carbon footprint and amount of waste generated at each event. The show features recycled flooring, compostable and biodegradable wastebasket liners, biodegradable table coverings, recycled signage, biodegradable banners, soy inks and a waste management program that includes donations to local programs.