Solar Roadways: Energy and Transportation Solution in One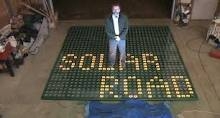 SANDPOINT, ID— There are 28,000 square miles of roadways spread across the 48 continental states. With the cost of traditional paving materials going up and their availability going down, innovator Scott Brusaw sees solar highways as the solution to several energy and transportation problems.
Brusaw is an electrical engineer (MSEE) with over 20 years of industry experience, and is the co-founder of Idaho-based Solar Roadways Incorporated. His solar roadway concept won a $50,000 Community Award from the 2010 GE Ecomagination Challenge, and also received the most community votes in the 2011 event.
Brusaw's 12 x12 ft solar road prototype incorporates an array of solar panels. Each panel includes three yellow and three white LEDs, with just over 6,000 LEDs in the whole prototype. The system's internal microprocessor determines which LEDs light up, allowing the mechanism to spell out almost any message.
Once the first phase of the Small Business Innovative Research (SBIR) contract was completed, the Federal Highway Administration awarded Brusaw's company a $750,000 Phase II SBIR contract in July 2011. That equals roughly two years' worth of funding for solar streets, according to Brusaw.
Phase II involves building a parking lot paved with embedded solar panels outside of the company's electronics lab in Sandpoint, Idaho. The plan is to break ground for the parking lot next month, but that's only if Mother Nature cooperates.
"Right now, there's snow and ice on the ground," explains Brusaw.
Video and article: http://www.sierraclubgreenhome.com/green-news/solar-roadways-capturing-driving-energy/?pid=892
Image credit: Mark Dixon, courtesy of Yert.com