20,000th LEED Project is Certified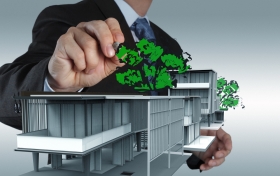 Earlier this month, while few people were watching, the 20,000th LEED commercial project was certified! Wow.
In the event you missed the huge happening on December 4th, it is a LEED 2009 Commercial Interior Certified project in Knoxville, Tennessee. This green tenant improvement portends enormous business opportunities associated with the U.S. Green Building Council and the existing built environment.
The sustainable build out is the 32,308 square feet corporate offices of Green Mountain Coffee Roasters, Inc.
Green Mountain Coffee Roasters is a publicly traded brand of coffee that produces organic, fair trade, and specialty gourmet coffees. This is the 7th LEED certified project associated with the company.
It scored 47 of 110 possible points placing it in the top 86% of projects in this rating system version. So, it really is very green. The project earned 8 points in credit WEc1 for a 35% reduction in indoor potable water use. It scored 2 points on credit EAc1.1 for a 20% reduction in lighting power density. And it secured 2 points on credit MRc4 for 10% recycled content on building materials.
That this milestone project is located within Tennessee is apropos. Not only is it within the United States, a big deal with the internationalization of LEED, but Tennessee is not Washington DC, with the most LEED projects per capita and it might not be the location one would guess for a LEED project. That said, "The Volunteer State" has 212 LEED certified projects encompassing 26.09 million certified square feet.
Continue reading at ENN affiliate, Clean Techies.
Green building image via Shutterstock.