New Scientific Approach Assesses Land Recovery Following Oil and Gas Drilling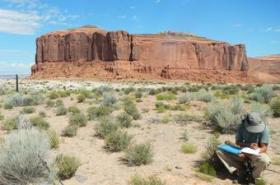 When developing oil and gas well pads, the vegetation and soil are removed to level the areas for drilling and operations. The new assessment approach, called the disturbance automated reference toolset, or DART, is used to examine recovery patterns after well pads are plugged and abandoned to help resource managers make informed decisions for future well pad development.
"These results may assist land managers in deciding what areas might be best utilized for energy development while also minimizing the long-term environmental impacts," said Travis Nauman, a USGS scientist and the lead author of the study.
The recovery of well pads following oil and gas development is an area of growing importance because recent technological advances such as hydraulic fracturing and horizontal drilling have initiated rapid increases in development and production. Previous studies estimate that about 11,583 square miles of land in central North America were cleared for oil and gas related purposes between 2000 and 2012.
Read more at USGS
Image Credits: USGS