Panel Urges US Govt Control Over Tobacco Products, Add Tax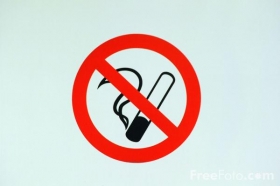 NEW YORK - A new report from the President's Cancer Panel reinforces the urgent need for Congress to pass legislation giving the U.S. Food and Drug Administration (FDA) authority over tobacco.
The report, Promoting Healthy Lifestyles: Policy, Program, and Personal Recommendations for Reducing Cancer Risk, states that FDA should have the crucial authority to regulate this product to reduce the deadly toll of tobacco.
The panel, chaired by LaSalle D. Leffall, Jr., M.D., F.A.C.S. of Howard University College of Medicine and whose members included Lance Armstrong, Founder of the Lance Armstrong Foundation and Margaret L. Kripke, Ph.D. from The University of Texas M.D. Anderson Cancer Center, urges "the leadership of this nation to summon the political will" to address the public health crisis caused by tobacco use. Each year, more than 438,000 Americans die from tobacco-caused diseases, including lung cancer and chronic obstructive pulmonary disease, also known as COPD, which includes chronic bronchitis and emphysema.
Currently, identical bipartisan bills are pending in the U.S. Senate (S. 625) and House of Representatives (H.R. 1108) that would give FDA authority over tobacco products. Fifty-three Senators and nearly 200 members of the House of Representatives have cosponsored the legislation. On August 1st, the Senate's Health, Education, Labor and Pensions Committee voted to send the legislation to the full Senate for action. We are hopeful that the House of Representatives will begin their work on the legislation in September.
The panel makes clear that states also have important responsibilities, including funding tobacco control programs at levels recommended by the Centers for Disease Control and Prevention, passing comprehensive smokefree workplace legislation, and increasing tobacco taxes. The report references the American Lung Association's Smokefree Air 2010 Challenge, which calls on states to pass legislation making all public places and workplaces 100 percent smokefree by 2010.
Finally, the panel recommends that Congress increase the federal excise tax on tobacco products. Currently, bills are pending in both the Senate and House that would increase the federal excise tax on cigarettes by 61 cents and 45 cents, respectively, to fund the State Children's Health Insurance Program (SCHIP).