Floods strand 300 foreigners in India's Ladakh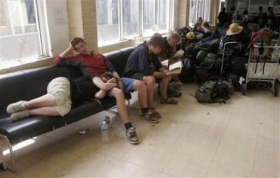 More than 300 foreign tourists are stranded in India's Himalayan region of Ladakh, three days after flash floods killed at least 150 people and ravaged the main town of Leh, officials said on Monday.

Floods triggered by unexpected heavy rains destroyed houses, uprooted telephone towers and deposited boulders and mud up to 15 feet high on highways and destroyed all communication networks, authorities and witnesses said.

At least 300 people are still missing and 25,000 people affected by the floods, army officials said. At least 7,000 soldiers were deployed to rebuild roads and bridges, they said.
"We have located about a group of 150 foreign tourists stranded in Zanskar Valley near Leh and we are trying to evacuate them by helicopters," Flight Lietunant Priya Joshi of the Indian Air Force told Reuters on Monday.
Another 90 tourists were stranded in a monastery in Lama Yuru, about 110 km ( 68 miles) west of Leh, while another 73 were waiting for evacuation in Din Karu, enroute to another tourist destination, the army said.
Thousands of tourists travel to Ladakh every year to visit old Buddhist monasteries and for adventure sports such as white water rafting.
The region borders Pakistan, beset by the worst floods in 80 years which have killed over 1,600 people and left at least two million homeless.
"It will take a lot of time and effort to restore the communication network," said Brigadier Sanjay Chawla of the Indian Army said from Leh.
About 33 soldiers were also swept away during the floods that hit the Ladakh region on Friday, the army said.
Photo shows stranded foreign tourists waiting in Leh airport after flash floods disrupted flights in Leh, about 443 km (275 miles) east of Srinagar August 8, 2010.
Credit: REUTERS/Yawar Nazir
Article continues: http://www.reuters.com/article/idUSTRE6780MF20100809