Nearly 600 killed, many still missing in Brazil floods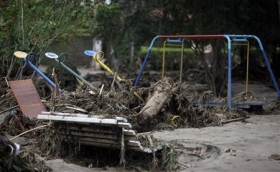 Dozens of flood survivors desperate for news of missing relatives lined up outside a morgue in the town of Teresopolis on Saturday as criticism grew of authorities' response to one of Brazil's worst natural disasters which has killed nearly 600 people.
Nearly four days after rains sparked floods and massive landslides, officials in this scenic mountain town are still struggling to cope with the scale of the catastrophe. The steadily rising death toll in the region north of Rio de Janeiro hit 591 on Saturday, Brazil's Civil Defense agency said, and President Dilma Rousseff declared three days of national mourning.
Cemeteries in Teresopolis have been overwhelmed by the number of bodies and Brazilian media reported that residents in isolated areas have been forced to bury victims themselves.
Mortuary officials in Teresopolis, where the official death toll is 257, are using two refrigerated fish trucks to hold dozens of bodies that have still not been identified.
Many residents fear their relatives are still buried under the surge of water, mud and rocks that tore a path of destruction through some villages on the outskirts of the town, suggesting the death toll could rise sharply. Authorities have not given estimates on the number of missing people.
Wemerly Moraes was waiting with his wife outside the morgue on Saturday morning to identify a body that could be the missing 2-year-old son of his sister, whose body has already been buried.
"This happened on Wednesday morning. When I went there on Thursday, there was still no one working to find victims," the 37-year-old builder said. "Maybe then he was still alive."
Up to half the victims of the disaster are feared to be children, charity Save the Children said.
Photo shows  cahildren's playground after a landslide in Teresopolis January 13, 2011. Credit: REUTERS/Bruno Domingos
Article continues: http://www.reuters.com/article/idUSTRE70C3YC20110116