Australia evacuates coastal cities in path of cyclone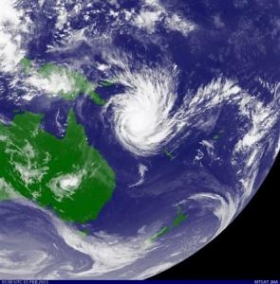 Australia evacuated thousands of people from its northeast coast on Tuesday as a cyclone rivaling Hurricane Katrina bore down on tourism towns and rural communities, with officials saying it could even threaten areas deep inland that were ruined by floods last month.
Mines, rail lines and coal ports were closed in Queensland state as Cyclone Yasi headed toward the coast. Up to a third of Australia's sugar crop was also under threat, officials said.
"This storm is huge and life threatening," Queensland Premier Anna Bligh said, warning the system was intensifying and picking up speed on its path from the Coral Sea, with destructive winds expected on Wednesday morning.
Cyclone Yasi is expected to generate winds of up to 280 kph (175 mph) when it hits the northern coast of tropical Queensland state early on Thursday, matching the strength of Katrina, which devastated New Orleans in 2005.
With a strong monsoon feeding Yasi's 650 km (400 mile) wide front, the storm was also expected to maintain its intensity long after smashing into the coast and could sweep inland as far as the outback mining city of Mt Isa, 900 km (600 miles) inland.
More than 400,000 people live in the cyclone's expected path, including the cities of Cairns, Townsville and Mackay, which are also main tourist areas and take in Australia's Great Barrier Reef.
Queensland, which accounts for about a fifth of Australia's economy and 90 percent of steelmaking coal exports worth about $20 billion a year, has had a cruel summer, with floods sweeping the eastern seaboard over the past month, killing 35 people.
Photo shows a weather satellite image obtained from the Japan Meteorological Agency shows tropical cyclone Yasi in the Coral Sea approaching the coast of Australia on February 1, 2011.
Credit: REUTERS/Japan Meteorological Agency/MTSAT/Handout
Article continues: http://www.reuters.com/article/2011/02/01/us-australia-cyclone-idUSTRE70U16S20110201