Hurricane Sandy Update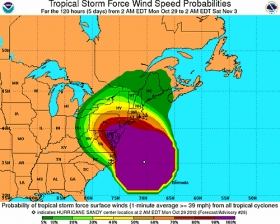 The National Hurricane Center advises that high wind warnings will remain in effect until 9 am in New Jersey and nearby states. There is also a high risk of coastal and inland flooding as extremely heavy rains are expected in what looks to be an extended period of heavy rain. Wind gusts will exceed 65 mph over the area today and this evening. The storm is intensifying as it passes over the Gulf Stream and will be very powerful as it slams into the New Jersey coast this evening with periods of widespread damaging wind gusts up to 85 mph. Conditions are forecast to worsen this afternoon and storm preparations should be complete by noontime or early afternoon.
The graphic shows probabilities of sustained (1-minute average) surface wind speeds equal to or exceeding 34 kt...39 mph (tropical storm force). These wind speed probability graphics are based on the official National Hurricane Center (NHC) track, intensity, and wind radii forecasts, and on NHC forecast error statistics for those forecast variables during recent years. Each graphic provides cumulative probabilities that wind speeds of at least 39 mph will occur during cumulative time periods at each specific point on the map. The cumulative periods begin at the start of the forecast period and extend through the entire 5-day forecast period at cumulative 12-hour intervals (i.e., 0-12 h, 0-24 h, 0-36 h, ... , 0-120 h). An individual graphic is produced for each cumulative interval, and the capability to zoom and animate through the periods is provided. To assess the overall risk of experiencing winds of at least 39 mph at any location, the 120-h graphics are recommended.
These probabilities will be updated by the NHC with each advisory package for all active tropical cyclones in the Atlantic and eastern North Pacific basins. While separate graphics are focused on each individual tropical cyclone, probabilities resulting from more than one active tropical cyclone may be seen on each graphic.
For  more updates on Sandy link to National Hurricane Center.