New Concerns Over Lead Exposure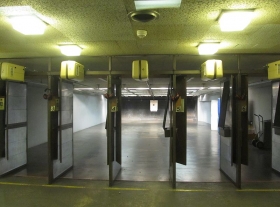 Is Lead exposure limits set low enough? There is strong evidence that the Occupational Safety and Health Administration's (OSHA) general industry standards for lead exposure, set more than 30 years ago, are inadequate to protect worker populations. A report by the National academies conducted at the request of the Department of Defense (DOD), whose employees at military firing ranges are exposed to lead recurrently when they handle ammunition, conduct maintenance on ranges, and breathe lead dust released into the air by gunfire. Lead is a highly poisonous metal (regardless if inhaled or swallowed), affecting almost every organ and system in the body. The main target for lead toxicity is the nervous system, both in adults and children. There are other potential body toxic effects too.
OSHA established lead exposure standards in 1978 for most industrial workplaces, including  firing ranges. But a large body of research on the health effects of lead exposure has emerged since then.

DOD asked the National Research Council to evaluate whether the OSHA standards adequately protect the military's firing range employees, who are exposed to lead recurrently when they handle ammunition, conduct maintenance on ranges, and inhale lead dust released into the air by gunfire.

According to the OSHA standards employees should not be exposed to lead concentrations in the air higher than 50 micrograms per cubic meter of air (µg/m3). This limit was set so that workers' blood lead levels would not exceed 40 micrograms per deciliter of blood (µg/dL), a level judged by OSHA at that time to adequately protect workers from adverse health effects.

However, the report cites recent evaluations performed by the U.S. National Toxicology Program and the U.S. Environmental Protection Agency that offer compelling evidence that nervous system, kidney, heart, reproductive and other health problems can be caused by blood lead levels between 10 and 40 µg/dL or even lower levels. Exposure to high lead levels can severely damage the brain and kidneys in adults or children and ultimately cause death.

These data led the committee to conclude that the currently allowable blood lead level of 40 µg/dL provides inadequate protection. Because of the association between air concentrations and blood levels, the committee also concluded that the 50 µg/m3 OSHA limit for lead in air is inadequate for protecting workers; a lower level is clearly warranted, the report says.

Data collected for the last 5 years show that the OSHA PEL for lead of 50 µg/m3 was frequently exceeded on Army, Navy, and Air Force firing ranges, in some cases by several orders of magnitude. Blood lead level data on firing-range personnel were not available from either the Army or the Navy, but the Air Force reported that available blood lead levels of its firing-range personnel were all under 40 µg/dL.

Given the report findings, lead exposure limits should be reviewed and lowered.

For further information see Lead.

Firing Range image via Wikipedia.