University of Illinois studying bee venom as cancer treatment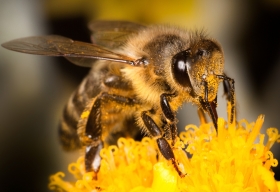 Another reason to love bees: they might be able to help us fight cancer.
While venom isn't usually known as a friendly thing, new research shows that venom from bees, snakes and scorpions could potentially be used to fight certain forms of cancer. While you wouldn't go and inject someone with a dose of venom, which could have lethal effects, researchers at the University of Illinois at Urbana-Champaign found that if they isolated specific proteins in the venom, these could be used in a safe way to block tumor growth.
"We have safely used venom toxins in tiny nanometer-sized particles to treat breast cancer and melanoma cells in the laboratory," study author Dipanjan Pan of University of Illinois at Urbana-Champaign, said in a statement. "These particles, which are camouflaged from the immune system, take the toxin directly to the cancer cells, sparing normal tissue."
Previous studies have shown the potential power of venom, but because of the potentially very dangerous side effects of venom injection - damage to nerve cells, for example - hat power couldn't be properly harnessed. That's what makes this new research so exciting.
The toxins in question are peptide toxins. The researchers made a synthetic version in the lab, then injected it into the tiny nanoparticles. "The peptide toxins we made are so tightly packed within the nanoparticle that they don't leach out when exposed to the bloodstream and cause side effects," Pan said.
Bee on flower image via Shutterstock.
Read more at ENN Affiliate, Care2.