How you manage your email can affect your stress level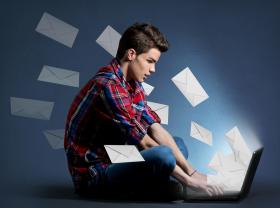 New research suggests that it's not just the volume of emails that causes stress; it's our well-intentioned habits and our need to feel in control that backfires on us.
These are some of the key findings presented next week, Thursday 7 January 2016, at the British Psychological Society's Division of Occupational Psychology annual conference in Nottingham by Dr Richard MacKinnon from the Future Work Centre.
The Future Work Centre asked nearly 2,000 working people across a variety of industries, sectors and job roles in the UK about their experience of using email. The research explored whether factors such as technology, behaviour, demographics and personality played a role in people's perception of email pressure.
The research suggests many people have developed some bad habits when it comes to managing email. Nearly half of those surveyed have emails automatically sent to their inbox (push notifications) and 62 per cent left their email on all day. Those who checked email early in the morning and late at night may think they are getting ahead, but they could be making things worse, as the study showed that these habits were linked to higher levels of stress and pressure.
Emailer image via Shutterstock.
Read more at EurekAlert.