UCLA studies the long-term health impacts of ozone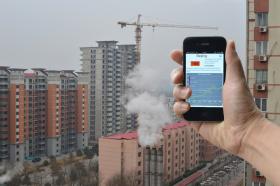 Adults with long-term exposure to ozone (O3) face an increased risk of dying from respiratory and cardiovascular diseases, a study "Long-Term Ozone Exposure and Mortality in a Large Prospective Study" published online ahead of print in the American Thoracic Society's American Journal of Respiratory and Critical Care Medicine suggests.
Using data from a large U.S. study begun in 1982, researchers found that every additional 10 parts per billion (ppb) in long-term ozone exposure increased the risk of dying by:
12 percent from lung disease
3 percent from cardiovascular disease
2 percent from all causes
Researchers said the increased risk of death was highest for diabetes (16 percent), followed by dysrhythmias, heart failure and cardiac arrest (15 percent) and by COPD (14 percent).
"About 130 million people are living in areas that exceed the National Ambient Air Quality standard," said Michael Jerrett, chair of environmental health sciences at the UCLA Fielding School of Public Health and study co-author. "While ozone has decreased in the U.S., the reductions are not nearly as big as decreases in other pollutants, and elsewhere in the world, ozone is a growing problem."
The authors analyzed data from nearly 670,000 records in the American Cancer Society Cancer Prevention Study (CPS-II). Begun in 1982, the study enrolled participants from all 50 states; the average age at enrollment was 55. The researchers matched cause of death over 22 years with U.S. Environmental Protection Agency and Centers for Disease Control air quality data. During that time, more than 237,000 participants died.
Air quality monitoring app image via Shutterstock.
Read more at UCLA.