Warmer West Coast ocean conditions linked to increased risk of toxic shellfish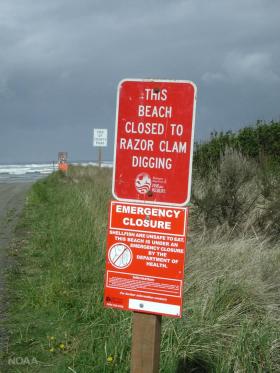 Hazardous levels of domoic acid, a natural toxin that accumulates in shellfish, have been linked to warmer ocean conditions in waters off Oregon and Washington for the first time by a NOAA-supported research team, led by Oregon State University scientists.
Domoic acid, produced by certain types of marine algae, can accumulate in shellfish, fish and other marine animals. Consuming enough of the toxin can be harmful or even fatal. Public health agencies and seafood managers closely monitor toxin levels and impose harvest closures where necessary to ensure that seafood remains safe to eat. NOAA is supporting research and new tools to help seafood industry managers stay ahead of harmful algae events that are increasing in frequency, intensity and scope.
"We describe a completely new method to understanding and predicting toxic outbreaks on a large scale, linking domoic acid concentrations in shellfish to ocean conditions caused by warm water phases of natural climate event cycles like Pacific Decadal Oscillation (PDO) and El Nino," said Morgaine McKibben from Oregon State University, the lead author of the newly published, NOAA-supported research findings in Proceedings of the National Academy of Sciences.
Read more at NOAA
Photo credit: Washington State Department of Health