Method to predict surface ozone pollution levels provides 48-hour heads-up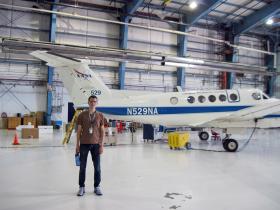 A novel air quality model will help air quality forecasters predict surface ozone levels up to 48-hours in advance and with fewer resources, according to a team of meteorologists.
The method, called regression in self-organizing map (REGiS), weighs and combines statistical air quality models by pairing them with predicted weather patterns to create probabilistic ozone forecasts. Unlike current chemical transport models, REGiS can predict ozone levels up to 48 hours in advance without requiring significant computational power.
Nikolay Balashov, who recently earned his doctorate in meteorology from Penn State, designed this new method by exploring the relationship between air pollutants and meteorological variables.
Because ozone levels are higher in heavily populated areas, particularly on the West Coast of the U.S., the model helps air quality forecasters and decision-makers alert residents in advance and promotes mitigation methods, such as public transportation, in an effort to avoid conditions conducive to unhealthy ozone level formation.
Continue reading at Penn State University.
Photo via Penn State University.