Atomic map gives malaria drug new lease on life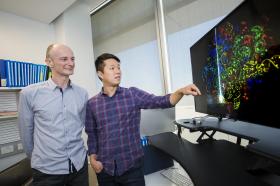 Researchers have for the first time mapped how one of the longest-serving malaria drugs works, opening the possibility of altering its structure to make it more effective and combat increasing malaria drug resistance.
The study produced a precise atomic map of the frontline antimalarial drug mefloquine, showing how its structure could be tweaked to make it more effective in killing malaria parasites.
Dr Wilson Wong and Dr Brad Sleebs led the research at the Walter and Eliza Hall Institute, with Dr Jake Baum at Imperial College London, Dr Sjors Scheres from the Laboratory of Molecular Biology, Cambridge, and Dr Stuart Ralph at Melbourne's Bio21 Institute. The paper was published today in Nature Microbiology.
While drug treatments and preventative medicines for malaria are available, some have serious side effects and drug resistance means there is an urgent need for new treatments.
Read more at Walter and Eliza Hall Institute
Image: Dr. Brad Sleebs (left) and Dr. Wilson Wong from the Walter and Eliza Hall Institute have produced a precise atomic map of the frontline antimalarial drug mefloquine (pictured), showing how its structure could be tweaked to make it more effective in killing malaria parasites. (Credit: Walter and Eliza Hall Institute of Medical Research)