Red blood cell variation linked to natural malaria resistance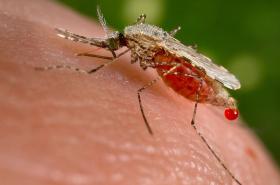 A study from the Wellcome Trust Sanger Institute, the Wellcome Trust Centre for Human Genetics and their collaborators have identified a genetic rearrangement of red blood cell glycophorin receptors that confers a 40 per cent reduced risk from severe malaria.
Published in Science, this is the first study to show that large structural variants in human glycophorin genes, which are unusually common in Africa, are protective against malarial disease. It opens a new avenue for research on vaccines to prevent malaria parasites invading red blood cells.
More than 200 million people a year are infected with malaria and the disease caused the deaths of nearly half a million people worldwide in 2015. Transmitted by mosquitos, the most widespread malarial parasite in Africa is Plasmodium falciparum; it is also the most dangerous.
Plasmodium parasites infect human red blood cells and gain entry via receptors on the cell surface. Previous studies on natural resistance to malaria had implicated a section of human genome near to a cluster of receptor genes. These receptors – glycophorins – are located on the surface of red blood cells and are amongst many receptors that bind Plasmodium falciparum. However, it is only now that they have been shown to be involved in protection against malaria.
Read more at University of Oxford
Photo credit: Jim Gathany via Wikimedia Commons