Study Adds to Evidence That Racial and Economic Factors Affect Surgical Pain Management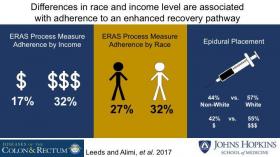 A "look back" analysis of more than 600 major colorectal surgeries using a "checklist" tool has added further evidence that racial and socioeconomic disparities may occur during many specific stages of surgical care, particularly in pain management.
A report of the study's findings by researchers at Johns Hopkins Medicine, published Sept. 11 in Diseases of the Colon & Rectum, documents the specific ways in which historically disadvantaged populations receive less optimal pain management and are placed on "enhanced recovery" protocols later than their wealthier and white counterparts.
"This study demonstrates that process measures, which guide and document each step of care, may be critical factors in preventing differences in care, particularly those due to race and socioeconomic status" says Ira Leeds, M.D., research fellow at the Johns Hopkins University School of Medicine and the paper's co-first author. "We can't fix what we don't measure," he adds.
Enhanced recovery after surgery (ERAS) protocols are predefined pathways designed to standardize some aspects of surgical care in order to reduce complications, decrease lengths of stay and improve overall patient satisfaction.
Read more at Johns Hopkins Medicine
Image: A visual abstract highlights main findings for a new Johns Hopkins study. (Credit: Ira Leeds)