Puerto Rico facing disaster of major proportions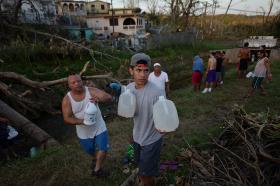 A week after Hurricane Maria rolled through Puerto Rico, the island faces a public health crisis with no power and a growing shortage of drinking water and food.
The majority of the island's 69 hospitals are without electricity or fuel for generators, according to the U.S. Department of Defense, and at least two people have died in an intensive care unit after it ran out of diesel. In many places, there's no water to drink or bathe in or to flush toilets, with residents forced to use rainwater. U.S. Customs and Border Protection says a plane carrying 3,500 pounds of water, ready-to-eat Army meals, diapers and other supplies is on its way.
"This is a disaster of major proportions," said Brian Schwartz, interim vice-president, science and health protection for Public Health Ontario, who is also an associate professor in the Faculty of Medicine and the Dalla Lana School of Public Health.
Continue reading at University of Toronto.
Photo via Getty Images.