Low Consumption of Vitamin K by Adolescents Associated with Unhealthy Enlargement of the Heart's Major Pumping Chamber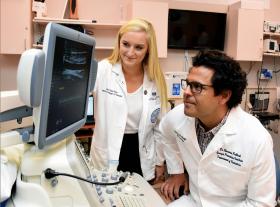 Scientists have found another reason for children to eat their green leafy vegetables.
A study of 766 otherwise healthy adolescents showed that those who consumed the least vitamin K1– found in spinach, cabbage, iceberg lettuce and olive oil – were at 3.3 times greater risk for an unhealthy enlargement of the major pumping chamber of their heart, according to the study published in The Journal of Nutrition. Vitamin K1, or phylloquinone, is the predominant form of vitamin K in the U.S. diet.
"Those who consumed less had more risk," says Dr. Norman Pollock, bone biologist at the Georgia Prevention Institute at the Medical College of Georgia at Augusta University and the study's corresponding author.
Overall, about 10 percent of the teens had some degree of this left ventricular hypertrophy, Pollock and his colleagues report.
Read more at Medical College of Georgia at Augusta University
Image: A study of 766 otherwise healthy adolescents showed that those who consumed the least vitamin K1 -- found in spinach, cabbage, iceberg lettuce and olive oil -- were at 3.3 times greater risk for an unhealthy enlargement of the major pumping chamber of their heart, according to the study published in The Journal of Nutrition. Vitamin K1, or phylloquinone, is the predominant form of vitamin K in the US diet. "Those who consumed less had more risk," says Dr. Norman Pollock, bone biologist at the Georgia Prevention Institute at the Medical College of Georgia at Augusta University and the study's corresponding author. (Credit: Phil Jones, Senior Photographer, Augusta University)