To Predict How Climate Change Will Affect Disease, Researchers Must Fuse Climate Science and Biology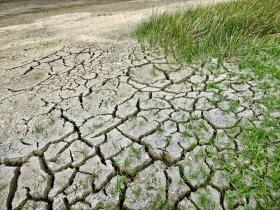 Predicting how climate change will affect the incidence of infectious diseases would have great public health benefits. But the relationship between climate and disease is extraordinarily complex, making such predictions difficult. Simply identifying correlations and statistical associations between climatic factors and disease won't be enough, said Princeton University researcher Jessica Metcalf. Instead, researchers need new statistical models that incorporate both climate factors and the climate–disease relationship, accounting for uncertainties in both.
Metcalf presented examples of possible models in a recent review paper, written with co-authors from a number of U.S. and international institutions and published in the Proceedings of the Royal Society B: Biological Sciences.
Some infectious diseases move from person to person, whether through the air (flu), through contaminated water and food (cholera), or through arthropods such as mosquitoes (malaria). Others reside in animals but can be transmitted to humans under certain conditions. For example, people can acquire hantavirus (which causes severe respiratory illness) when they breathe particles from contaminated rodent droppings that have been stirred into the air, and ticks transmit Lyme disease from deer to people. Climatic factors could affect the scale of disease at any stage, said Metcalf, who is an assistant professor of ecology and evolutionary biology and public affairs at Princeton's Woodrow Wilson School of Public and International Affairs.
Read more at Princeton University, Woodrow Wilson School of Public and International Affairs
Photo credit: jodylehigh via Pixabay