Global Calcium Consumption Appears Low, Especially in Asia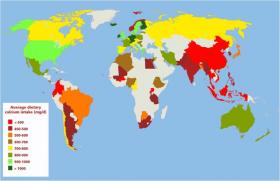 Daily calcium intake among adults appears to vary quite widely around the world in distinct regional patterns, according to a new systematic review of research data ahead of World Osteoporosis Day on Friday, Oct. 20.
The data suggest there are many areas of the world with risk to bone health, said study lead author Ethan Balk, an associate professor at the Center for Evidence Synthesis in Health in the Brown University School of Public Health. The new analysis appears online in the journal Osteoporosis International.
"Outside of North America and most of Europe, particularly Northern Europe, there is lower intake than there should be for good bone health," Balk said. "In many parts of the world, the low average calcium intake may be putting most people at increased risk of fractures and osteoporosis."
Balk and his co-authors, including several at the International Osteoporosis Foundation, scoured the research literature and other data sources for any studies that reported national averages of daily calcium intake among adults around the world. Ultimately they found useful information pertaining to 74 countries.
Read more at Brown University
Image: Researchers found that countries in South and East Asia had particularly low rates of calcium consumption, while amounts were much higher in Northern Europe. (Credit: Balk, et. al.)