Biological Consequences of Climate Change on Epidemics May Be Scale-dependent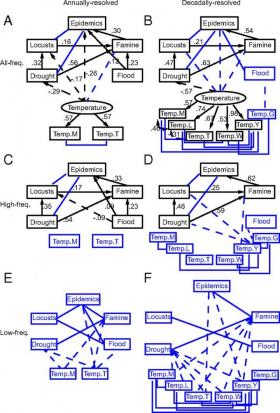 Conventional thinking holds that current climate warming will increase the prevalence and transmission of disease.
However,
led by Prof. ZHANG Zhibin of the Chinese Academy of Sciences and Prof. Nils Christian Stenseth of the University of Oslo in Norway show that the impact of climate change on the prevalence of epidemics may be scale-dependent.
The study was conducted using two millennia of historical data from ancient China extracted from A Compendium of Chinese Meteorological Records of the Last 3,000 Years.
When data covering a large time scale were analyzed, the researchers found that climate cooling caused more epidemics. However, when data covering a small time scale were analyzed, the association between epidemics and temperature was not consistent; in other words, both positive and negative associations were observed.
Read more at Chinese Academy of Sciences Headquarters
Image: These are frequency-dependent effects of biological and climatic factors on prevalence of human epidemics in ancient China. (Credit: IOZ)