Significant Financial Stress Associated With 13-Fold Higher Odds of Having a Heart Attack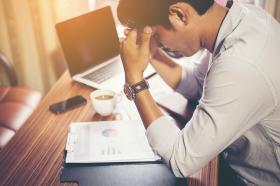 Significant financial stress is associated with a 13-fold higher odds of having a heart attack, according to research presented at the 18th Annual Congress of the South African Heart Association.
The SA Heart Congress 2017 is being held from 9 to 12 November in Johannesburg. Experts from the European Society of Cardiology (ESC) will present a special programme.1
"The role of psychosocial factors in causing disease is a neglected area of study in South Africa, perhaps because there are so many other pressing health challenges such as tuberculosis and HIV," said lead author Dr Denishan Govender, associate lecturer, University of the Witwatersrand, Johannesburg.
"The INTERHEART study 2,3 showed that psychosocial factors are independently associated with acute myocardial infarction (heart attack) in Africa but as far as we are aware there are no other published local data," said last author Professor Pravin Manga, professor of cardiology, University of the Witwatersrand.
Read more at European Society of Cardiology
Photo credit: caio_triana via Pixabay