Macho Bollywood actor Khan jailed in wildlife case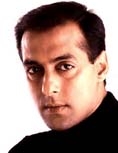 photo source: wetpaint.com
JODHPUR, India (Reuters) - Bollywood star Salman Khan was arrested by Indian police on Saturday and sent to jail after a court rejected his appeal against a five-year sentence for shooting endangered gazelles.
Television pictures showed the muscular actor surrounded by policemen as he left Jodhpur airport after arriving from Mumbai. TV crews and fans jostled to get a glimpse of him and police struggled to keep order.
"He has been arrested at the airport lounge and the arrest warrant was presented to him there," a police official said.
Dozens of fans on motorcycles followed the police vehicle on its way to court where Khan was ordered to be jailed, police officials said. He was immediately taken to the local prison.
The actor said earlier on Saturday he would surrender in Jodhpur after the rejection of the appeal against his 2006 conviction for killing several endangered species of antelope during hunting trips to the western state of Rajasthan in 1998.
The animals are protected under Indian wildlife law.
Khan was alleged to have slit the throat of the chinkara gazelle that he shot before giving it to chefs at his deluxe hotel to cook.
On Friday, a Jodhpur court rejected his appeal against the conviction, leaving him with the option of surrendering or being arrested. The court also issued an arrest warrant against him.
The actor's father, Salim Khan, felt his son received a tough sentence because he was a celebrity.
"Even if you are a public figure it does not mean you should get extra punishment ... treat him like any other man," the actor's father, Salim Khan, told Times Now news channel.
OTHER CASES
Khan had said in Mumbai he planned to surrender in Jodhpur "as a responsible citizen and somebody who abides by the law and respects the judiciary".
He was accompanied by his lawyer and family members, including his actor-brother Sohail Khan.
Renowned for his bad-boy image and romantic liaisons with several Bollywood leading ladies, Khan has several other cases hanging over him.
He was convicted in 2006 for killing protected blackbuck antelopes during Rajasthan hunting trips and given a one-year jail sentence.
He was granted bail and has appealed against that conviction. He has also been charged with other counts of killing wildlife and of breaking gun laws.
In addition, Khan is facing trial over the death of a man sleeping on a pavement in Mumbai in 2002. Khan is suspected of drunk-driving. The actor has denied being at the wheel.
Khan, who plays comedy roles and often acts with his shirt off, is filming three movies costing about 1 billion rupees ($24 million), according to film analyst Taran Adarsh.