Study: Hybrid Owners: Wealthy, Active, Educated and Democratic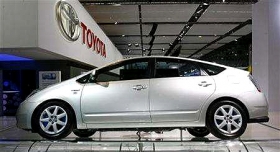 NEW YORK - Democratic, wealthy, educated and active are four adjectives that describe today's hybrid vehicle owner, according to a recent analysis from Scarborough Research, a consumer and media research firm.
Scarborough's analysis finds that almost half (42 percent) of the households in the U.S. that own or lease at least one hybrid vehicle have an annual income of $100,000 or more. That is more than twice the national average. The adults who live in these households, "Hybrid Owners," are more than twice as likely as all U.S. adults to have a college degree. This includes the twenty-seven percent of Hybrid Owners who have a post graduate degree, compared to nine percent of adults overall. Hybrid Owners skew older than average, and are 23 percent more likely than average to be aged 50+.
When it comes to politics, the Democratic party commands the highest percentage of Hybrid Owners. Thirty-eight percent of Hybrid Owners cite Democrat as their political party affiliation. Fourteen percent are Republican, and 34 percent are Independent. The Independents include those who stated in the Scarborough survey they were "Independent" (eight percent of Hybrid Owners); "Independent, but feel closer to Democrat,"(20 percent of Hybrid Owners), and "Independent, but feel closer to Republican" (six percent of Hybrid Owners). Fifteen percent of Hybrid Owners did not identify with a political party in the Scarborough analysis. Eighty-one percent of Hybrid Owners stated they "always" vote in presidential elections, versus 71 percent of the total U.S. adult population.
Hybrid Owners are active, engaged in outdoor activities, and health- conscious. Thirty-three percent of Hybrid Owners belong to a health/exercise club as opposed to 18 percent of the total population. They engage in other sports such as biking (Hybrid Owners are 66 percent more likely than the national average to have gone biking during the past year) and yoga/pilates (more than twice as likely to engage in this leisure activity). Outdoor activities beckon the Hybrid Owner. This consumer group is more than twice as likely as all adults to have gone hiking/backpacking during the past year; 21 percent more likely to garden; more than three times more likely to snow ski; and 20 percent more likely to golf. When it comes to their grocery cart, Hybrid Owners are more than twice as likely as the average consumer to have used organic foods in their household during the past month.
"Hybrid vehicles, a new measurement in Scarborough's syndicated study, are generally acknowledged to be gaining momentum and popularity across the U.S.," said Alisa Joseph, vice president, advertiser marketing services, Scarborough Research. "Given that hybrids tend to be pricier than the average car, it is no surprise that people with higher incomes are attracted to these vehicles. In marketing hybrids, local dealerships have an opportunity to tap into the high incomes and high-activity level of this consumer group with advertising and promotions."
Scarborough markets that rank at or near the top of the list for household hybrid ownership include Tucson, San Francisco, Washington D.C. and Las Vegas. Near or slightly above two percent of households in these markets own a hybrid vehicle, as compared to less than one percent of households nationwide.
"As local governments grant tax breaks and provide lifestyle incentives to hybrid owners, such as access to high-occupancy lanes on highways, there are even more reasons for consumers to drive hybrid vehicles -- and creative opportunities for dealerships and manufacturers to promote them," continued Ms. Joseph.
SOURCE: Scarborough Research, Scarborough USA+ Study, Release 1 2007 (Six Months Only). Local market and income information is based on household weights.
About Scarborough Research
Scarborough Research, a Media Rating Council (MRC) accredited media and marketing service, (www.scarborough.com, info@scarborough.com) measures the lifestyle and shopping patterns, media behaviors, and demographics of American consumers. Products and services include consumer insight studies in 81 Top- Tier Markets, The Multi-Market Study, Scarborough USA+ (a national database), Hispanic studies, and custom research solutions. With more than 30 years of experience, Scarborough measures 2,000 consumer categories and serves a broad client base that includes marketers, advertising agencies, print and electronic media (broadcast and cable television, radio stations) sports teams and leagues, and out-of-home media companies. Surveying more than 220,000 adults annually, Scarborough is a joint venture between Arbitron Inc. (www.arbitron.com) and The Nielsen Company (www.nielsen.com).
Source: Scarborough Research