Air breeze - the latest in off-grid wind power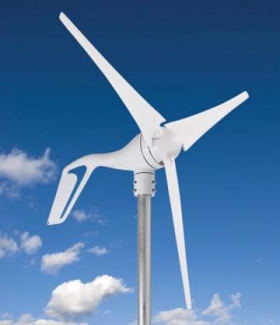 Small wind leader, Southwest Windpower, has introduced its new, small wind turbine, Air Breeze, as its successor to its successful Air-X product. The system is primarily marketed for off-grid applications such as vacation homes, cabins, boats and RV's, or as an adjunct to an existing battery charging renewable energy system (solar). The Air Breeze is marketed as being quieter, more efficient, and precision engineered to deliver more energy at lower wind speeds than any other wind generator in its class.
Provides power at wind speeds as low as 6mph and 200 watts of power at 28mph.  For land or marine use, the 46 inch diameter rotor can be pole or roof mounted on land, or mounted on a boat for marine use.
12 and 24 volt models range in price from $599 to $699 on the net @sundancesolar.com (doesn't include installation, mounting and storage system).
find a dealer/installer near you