U.N. urges climate cash boost for poorest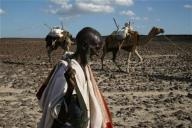 LONDON (Reuters) - The United Nations and aid groups are pushing for an urgent increase in international funding to help the world's poorest countries cope with climate change, even as the global credit crunch strains rich nations' budgets.
Aid experts say tens of billions of dollars are needed to prepare for more extreme weather and other effects of global warming like rising seas. The issue will be on the agenda at 190-nation climate talks starting on Monday in Poznan, Poland.
"The need for real progress on tackling climate change has never been more urgent," said Yvo de Boer, the U.N.'s top climate change official, in a statement ahead of the meeting.
"The effects of climate change that science has identified are already weighing upon those most vulnerable, and who await the financial and technological resources they need to deal with these impacts."
U.N. Emergency Relief Coordinator John Holmes told Reuters governments should put more emphasis on adaptation to climate change in international negotiations, which focused mainly on cutting greenhouse gas emissions until a year ago.
"We're seeing the effects (of climate change) already in terms of more disasters and more intense disasters: more floods, more hurricanes, more droughts...We need to be dealing with that now and not just in the future," he said.
FLOOD DEFENCES
Adaptation includes measures like building flood defenses and houses on higher ground, putting in place warning systems, planting coastal vegetation and growing different crops.
Governments are expected to put the finishing touches to the Kyoto Protocol's Adaptation Fund in Poznan so that it can start rolling out concrete projects in 2009. It has yet to disburse cash because the board spent the past year working out legal and technical issues.
The fund will be financed by a 2 percent levy on projects in the Clean Development Mechanism, a U.N. scheme that allows wealthy states to invest in clean energy projects in the developing world in return for offsets against their carbon emissions.
The United Nations says the Adaptation Fund will increase to around $300 million by 2012. But this is a fraction of the minimum $50 billion aid agency Oxfam says is needed each year for poor nations to avoid serious damage from climate change.
"For these countries, there is a need to prime the pump and just get resources flowing so that something starts happening," said Oxfam climate change policy adviser Antonio Hill.
Oxfam wants rich countries to step up financial support immediately so that the world's poorest countries can put their adaptation plans into action.
Donors have paid around $131 million into a U.N. fund for that purpose, compared with pledges of $172 million and requests which Hill said had reached around $1.7 billion.
In Poznan, some campaigners plan to call on governments to swell the Adaptation Fund's coffers by making direct donations.
Developing countries and aid groups also want progress on innovative fundraising schemes to be included in the new U.N. climate treaty due to be agreed by the end of next year.
Favored options are an international insurance facility that would pay out in the event of climate-related disasters and a Norwegian proposal to generate adaptation money by auctioning emissions allowances allocated to developed countries.
Some experts fear rich nations will shy away from big commitments. "Finance ministers do not really favor a system which requires them to give money without them deciding each year how much, but that's exactly where we have to go," said Sven Harmeling, climate adviser at advocacy group Germanwatch.
Oxfam's Hill warned there was a risk that the growing international attention to adaptation might not go beyond rhetoric. "The big challenge is going to be over the next year...whether we do see actions matching the words," he said.
(Editing by Mark Trevelyan))