MerleFest 2010 is Coming April 29 – May 2, 2010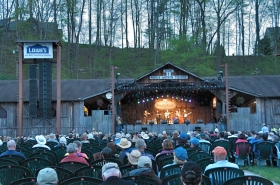 The annual MerleFest, presented by Lowe's takes place next week in Wilkesboro, NC. MerleFest has been an annual event since 1988. It attracts attendees from a wide area, and generates significant economic benefit to the region.
This year MerleFest is making increased environmental efforts to reduce the potential environmental impacts of such a large-scale event.
It all began with a gardener who wanted to raise funds for gardens on the campus of a rural North Carolina Community College and a community of musicians who wanted to honor the memory of a fallen friend and his musician father. It grew to an internationally renowned music festival and fundraiser that contributes more than $17 million to the region. It's MerleFest.
Before he was MerleFest Executive Director, "B" Townes began his career at Wilkes Community College in the horticulture department. Driven by the goal of raising funds to improve the campus' gardens, Townes had the idea to hold a concert in the fall of 1987 as a fundraiser. It was going to be a "one time, one night, one man show."
Townes recruited Ala Sue Wyke, a WCC Gardens board member, and Bill Young, a retired banker from Northwestern Bank and a first class guitar picker who happened to have a friend named Doc Watson. In October of 1987, the three met with Doc Watson who generously agreed to do the concert in the John A. Walker Community Center at Wilkes. Doc's wife RosaLee and daughter Nancy suggested a festival to be held at the end of April with all proceeds going to the Eddy Merle Watson Memorial Garden for the Senses.
The 1988 event featured Doc, Earl Scruggs and fiddler Jim Shumate, Tony Rice, Chet Atkins, Grandpa Jones and daughter Alisa, Marty Stuart, Mike Cross, New Grass Revival, David Holt, Jack Lawrence, the Smith Sisters, John Hartford, Mark O'Conner, Jerry Douglas, George Hamilton IV, and others. That first year was a truly special one explained Sam Bush to MerleFest's hometown newspaper the Wilkes Journal-Patriot in January 2001, "Since it hadn't been long since Merle had passed away our thoughts that first year were... centered on wanting to be with the Watson family to celebrate Merle's life."
Environmental Commitment
According to Christie Hutchens, MerleFest got serious about being more eco-friendly in 2007. That year, we decided to focus on learning as much as we could, getting ideas, observing our operations, and working on our year-round operations. We challenged ourselves to reduce the amount of paper used and transitioned to electronic copies of things whenever we could. During meetings, we did not print hand outs and installed an overhead projector in our meeting room so we could access anything we need without making copies. During that festival we all took note of what we could improve on.

Of course, we had a lot of ideas we wanted to pursue. We decided, in the summer of 2008, to focus on one topic each year and really work on that rather than trying to do too much, too fast. For the 09 festival, we chose recycling. This year, we've added more plastic recycling containers throughout the grounds, added a container for programs and paper at the exit, and have contracted with Appalachian State University's Bio-fuel project to recycle used cooking oil.

We print our program on recycled paper. And, this year, we did not print a full brochure. We chose to print a much smaller post card and direct people to the website for line-up and ticketing information. We continue to evaluate those types of projects to make sure that if we do produce a promotional piece, it is needed and done so in the most efficient manner.

We'll decide our focus for the 2010 festival this summer. There are a lot of things that we'd like to eventually tackle- our energy consumption, our food service operations, etc.

In making these changes, we have to be very aware of costs. Sometimes, taking the eco-friendly approach requires some additional costs and sometimes it saves. Since we are a non-profit fundraiser, we do have to make sure our decisions also help maintain our commitment to our college. That is another reason why we felt a targeted approach works best for us.

Interestingly, as we began the process we also saw that we challenged ourselves personally. Often we'll talk about what we're doing at home to be more eco-friendly and share ideas with each other. We challenge each other to do things in a more sustainable way and support each other when we take steps to be more eco-friendly.
Opportunities still exist to volunteer at the festival. Volunteers completing a four-hour shift receive free admission on the day they volunteer. For further information on volunteering, visit www.merlefest.org and click on the "Volunteering" tab.
The push for a greener festival includes:

· 88 recycling cans scattered throughout the festival for plastic bottles
· 6 large recycling bins for plastics at main exits
· Large recycling bins at the exit for programs and other paper goods
· Recycling all grease from cooking at food tent--sent to a biodiesel manufacturer
· A major emphasis on saving paper, printing, etc. in all office functions throughout the year.
· This year, for the first time ever, festival check in will be done by computer, which will significantly reduce the use of envelopes, paper, etc.
· The festival continues to limit the number of vehicles parking on our campus during the festival and having people ride in on shuttle buses from remote parking lots.
The MerleFest Lineup:
Featuring four days of performances by over 100 artists on 15 stages, MerleFest is a great entertainment value and an affordable weekend getaway. As in previous years, the list of performers fits the "traditional plus" definition offered by Doc Watson when describing the rich musical diversity that is a hallmark of the event. Sounds of bluegrass, blues, gospel, country and Americana will fill the air. The award-winning lineup represents a group of artists who have collectively earned over 20 Grammy® Awards, 46 International Bluegrass Music Awards and 4 Americana Music Association Awards, among many others. Doc Watson himself was awarded the National Heritage Fellowship by the National Endowment for the Arts in 1988; received the National Medal of the Arts from President Clinton in 1997; and was awarded the Lifetime Achievement Award by the National Academy of Recording Arts & Sciences at the 2004 Grammy Awards show.

The complete lineup and stage schedules are posted at www.merlefest.org. Fans at MerleFest can also expect the unexpected, with special surprises, spontaneous jam sessions and one-of-a-kind musical collaborations.

Ticket purchases can be made on the web at www.merlefest.org, by calling 1-800-343-7857, or at the gate. There are no surcharges or hidden fees on ticket sales. Free parking and shuttle service to the festival entrance are provided. Also, children 12 years of age and younger are admitted free to the festival when accompanied by an adult with paid admission. Gates open on Thursday at 2:30 p.m. and on Friday, Saturday and Sunday at 9:00 a.m.

Thursday, April 29, will feature performances by artists including The Zac Brown Band, Taj Mahal, The Duhks, Rhonda Vincent & The Rage, The SteelDrivers, The Gibson Brothers, Balsam Range, The Belleville Outfit, and an opening night dance with Donna the Buffalo, among others. The MerleFest Mandolin contest will take place in the Lounge in Alumni Hall. Thursday is also a day for community outreach, with several MerleFest artists visiting and performing at local schools.

The schedule on Friday, April 30, includes performances by Little Feat, Sam Bush, Dierks Bentley featuring the Travelin' McCourys, Joey + Rory, Dailey & Vincent, The Waybacks, The Steep Canyon Rangers, The Lovell Sisters, Missy Raines & The New Hip, Donna the Buffalo, The Greencards, Bearfoot, Cadillac Sky, Wylie and the Wild West, Great Big Sea and The Kruger Brothers, among others. There will be an Old Time Set with Doc Watson and David Holt, and dancer Carol Rifkin. The Merle Watson Bluegrass Banjo Championship and the Doc Watson Guitar Championship will also take place on Friday in Alumni Hall. Finalists in the Chris Austin Songwriting Contest will compete on the Austin Stage at 2:00 p.m., followed by the announcement of the winners in each category. Winners will perform on the Cabin Stage at 5:45 p.m.

The lineup for Saturday, May 1, includes performances by Elvis Costello and the Sugarcanes, Steve Martin with the Steep Canyon Rangers, Peter Rowan, Tony Rice, Dehlia Low, Nation Beat, Jim Lauderdale and Scythian, among others. The ever-popular Hillside Album Hour, hosted by The Waybacks, will take place at 5:00 p.m., and a special performance by Doc Watson and Friends, beginning at 6:15 p.m., will culminate in a tribute to Merle Watson. Winners of the instrument contests (mandolin, banjo, guitar) will perform on the Cabin Stage starting at 5:10 p.m. The Midnight Jam will take place in the Walker Center (separate ticket required, available to 4-day ticket holders). Hosted by Zac Brown, with opening act Sonia Leigh and Levi Lowrey (11:30 p.m.), the jam will feature The Duhks, The Greencards, Peter Rowan, Dierks Bentley and other surprises.

Sunday, May 2, will feature performances by the Avett Brothers, who will close the festival with their set at 3:30 p.m., along with Doc Watson and the Nashville Bluegrass Band, Roy Book Binder, Eleanor Ellis, Ben Prestage, Buffalo Barfield, The Lee Boys, W.P.A., Red Molly and Larkin Poe (formerly the Lovell Sisters), among others.

In addition to music, MerleFest offers special activities and shopping, all in a family-friendly atmosphere. The Shoppes at MerleFest is a centrally located shopping village featuring demonstrating artisans, vendors, convenience foods, official MerleFest memorabilia, and services such as the MerleFest Post Office, first aid, lost and found, and internet access. The Little Pickers area, expanded in size and scope this year, offers children's activities, crafts and entertainment. Nature walks of the gardens and forest on the WCC campus will be offered on Friday, Saturday and Sunday.

MerleFest 2010 is presented by Lowe's. MerleFest is grateful to 75+ sponsors for their support in making the event possible, including: Charlotte and Greensboro area BURGER KING® Restaurants, G&B Energy, Pepsi, Taylor Guitars, Cutter, Ray's Weather Center, WXIII-TV, The Winston-Salem Journal, WTQR Radio and 98.7 Simon. ENN is proud to be a media sponsor of MerleFest.
A complete listing of all MerleFest sponsors and additional information about all aspects of the festival can be found at http://www.merlefest.org.
Photo from MerleFest 2009 by Roger Greenway.