The Art of the Eco-Friendly Wedding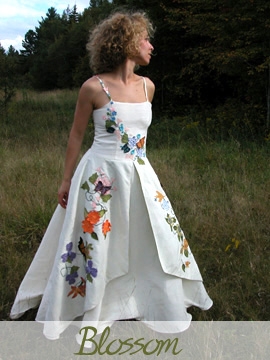 This past Sunday, American Idol Season 9 runner-up Crystal Bowersox married boyfriend Brian Walker in a small ceremony at a club where the two first met. What makes Bowersox worthy of a blog discussion here on ENN is the fact that her wedding was eco-friendly, ranging from her custom gown to the local, organic bakery she picked to cater the wedding.
I wrote in an earlier blog post about how one couple recycled their way to paying for a wedding, but if you have the money to splurge on your wedding but still keep the environment in mind, do it Bowersox's way.
For one thing, her wedding dress was custom-made by Tara Lynn, a Vermont-based designer who is committed to designing Earth-friendly, sustainable fashion (her studio is also solar-powered!). The dress was a custom mix of hemp and cotton, and the train included seashells and beads which Bowersox admitted to having kept from childhood according to StyleList. The couple also decided against any diamond rings as they "don't believe in the violence and injustice that occurs within the diamond trade industry," Bowersox was quoted as saying.
Nowadays, the choices for eco-friendly weddings seem to have really expanded. Just search the Internet to learn about a variety of options for those who still care about the Earth even as they plan the most important day of their lives. The Knot, a site that deals with all things wedding related, has a great guide to an eco-friendly wedding. The guide offers information about being eco-friendly in planning all parts of the wedding, whether deciding the wedding venue, flowers or catering (Bowersox chose eco-friendly Bleeding Heart Bakery). Aisle Dash also has an eco-friendly wedding guide, featuring its top 10 tips for a Green Wedding here.
To read more and comment on this article, go to the ENN Community Blog