How you can "Green" your kids toys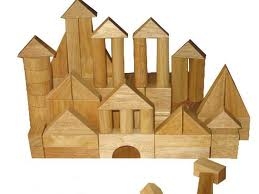 Toys seem to multiply mysteriously as kids grow. Gifts from relatives, impulse buys, bribes. There seems to be no end of occasions to buy kids toys. Every parent knows that these toys enjoy their moment in the sun, only to be quickly discarded in favor of new toys. Sometimes, these new "toys" are nothing but empty cardboard boxes or wrapping. There are many ways that parents can make their kids' toys more eco-friendly by cutting down on the waste that buying so many new toys creates, and by choosing more sustainable and less toxic materials.
Reuse and Recycle
Toys don't have to be new to be new to your kids. Plenty of great toys can be found at yard sales and thrift stores, saving you money and reducing the amount of new materials that are created. Most of the time, these toys just need a simple wash to look like new.

Also take a look at your kids' old toys. Sometimes, a new coat of paint or a simple customization (adding a bow to that stuffed bunny, putting new wheels on that old race car, etc.) can make these toys look like new to your children.

Finally, when your children are done with their toys, be sure to donate them or to resell them in a yard sale. Don't let them end up in the landfill.

Make Your Own

Plenty of great toys can be made with simple materials and a little creativity. Stuffed animals are easy to sew together – even if you only use basic shapes and sew together two pieces of felt. Wooden blocks can be easily created by buying pre-cut shapes and painting them. Kids' jewelry, book covers, games, costumes, and much more can all be created. If you get your kids to help you, play time takes on a new level by giving them the opportunity to exercise their creativity.
Think Classic
What toys did you have as a kid? It's likely you had a lot of wood blocks or unpainted wood toys, as well as toys made of tin. Look for the same for your kids. Toys made of unfinished wood or metal painted with non-toxic paint mean that you will avoid the harmful chemicals found in many contemporary toys, which are often made of plastic. BPA and phthalates are some of the most common chemicals found in plastics, both of which are harmful to your child and to the environment.
Buy Green
If you want to be sure that the toys you are buying are eco-friendly, there are a number of toy makers that offer exclusive lines of green toys. Green Toys makes toys of recycled and environmentally friendly materials. Eco-Time Toys sells a line of organic, wooden, and toxic-free toys. Natural Kidz also sells toys that are made of recycled and natural, toxic-free materials. These are just a few of the companies that sell such toys, so the options are limitless.
With all the toys that your kids go through over the course of their childhood, it pays off to pay attention to the quality of the materials used in them. Making efforts to limit waste and to use eco-friendly materials will benefit your pocket book and the environment.
Alexis Bonari is a freelance writer and researcher for College Scholarships, where recently she's been researching technical school scholarships as well as technical school loans. Whenever she gets some free time, she enjoys watching a funny movie or curling up with a good book.
Photo credit: http://www.ecotoys.com.au/store/wooden-blocks.php
For more information on Alexis Bonari visit: technical school scholarships  or technical school loans