Hurricane Sandy Aftermath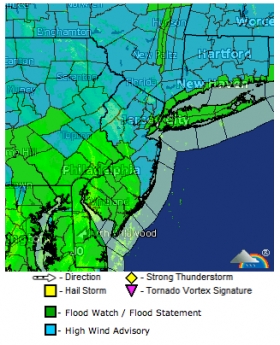 Hurricane Sandy is no longer a hurricane, as it continues to bring high winds and rain to large portions of the north east and northern mid-west US. There are many trees down, and massive power outages. It will be days before the clean up is complete.
The ENN offices have no power so editors are working remotely to maintain a reasonable update schedule. There is also a reduced amount of news being published by our news sources which include university research departments and government agencies as they are dealing with storm related issues themselves.

As news on storm related damage and recovery becomes available, we will publish updates.
The National Weather Service has issued this advisory:
The National Weather Service in Mount Holly has issued a coastal
Flood Advisory in effect until 1 PM EDT this afternoon.
- Location - coastal areas of New Jersey and Delaware including
Delaware Bay.
- Coastal flooding - minor flooding is anticipated around the time
of this mornings high tide. The flooding near Sandy Hook along
the northern New Jersey coast may be moderate.
- Timing - high tide along the New Jersey and Delaware oceanfront
occurs between 8 am and 930 am. High tide on the back bays,
along Delaware Bay and along Raritan Bay occurs later than the
tide along the oceanfront.
- Seas - wave heights on the ocean will be 6 to 12 feet and on
Delaware Bay 3 to 6 feet.
- Impacts - localized flooding will occur although far less than
that of yesterday.
Precautionary/preparedness actions:
A coastal Flood Advisory indicates that minor tidal flooding is
anticipated. Minor tidal flooding often results in some Road
closures. Usually... the most vulnerable roadways will flood.
Do not leave your vehicle at a location that is prone to tidal
flooding. Do not drive your vehicle through flood waters. The
water may be deeper than you think it is. You will be putting
yourself in danger and your vehicle may be damaged, leading to costly repairs.
Map courtesy WeatherUnderground.