The Florida jail that is also an animal shelter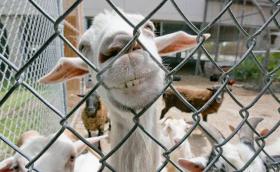 Usually the word "jail" brings some harsh imagery to mind: barbed wire fences, orange jumpsuits and tall concrete walls. That's not the case in the Key West, though. Ask a local about the jail, and the most likely image is Mo, an adorable and charismatic sloth who's become the unofficial mascot of the Stock Island Detention Center, which doubles as a sanctuary for unwanted animals.
"All the animals here are either abandoned, abused, confiscated or donated," Jeanne Selander, the caretaker for the facility, explains to Care2. "The animals are here because they need a forever home and we give them one."
Among the facility's residents are: Boots, a small alligator whose original owner didn't want to pay for his vet bills after he ate the silicone lining in his tank; Fat Albert, an African spurred tortoise who escaped his owners' home and was found wandering around town; and Bam Bam, an abandoned miniature horse. In total, the prison holds 150 animals and up to 596 prisoners. Five of the latter get to work with the animals as volunteers.
"The prisoners are screened very carefully," says Selander. "The qualifications include non violent, no child offenders of any kind, and obviously no animal abusers. They're the cream of the crop, really, but the first thing is that they need to want to work in the farm. You need to want to help and like animals."
Photo Credit: Rob O'Neal
Read more at ENN Affiliate Care2.