Tai Chi Holds Promise as Cardiac Rehab Exercise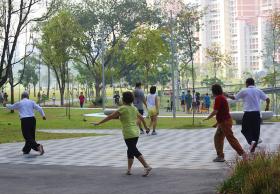 The slow and gentle movements of Tai Chi hold promise as an alternative exercise option for patients who decline traditional cardiac rehabilitation, according to preliminary research in Journal of the American Heart Association, the Open Access Journal of the American Heart Association/American Stroke Association.
After a heart attack, more than 60 percent of patients decline participation in cardiac rehabilitation. Although the reasons include financial concerns and distance to a rehab center, many patients stay away because they perceive physical exercise as unpleasant, painful or impossible given their current physical condition.
This is the first study suggesting that Tai Chi may improve exercise behaviors in this high-risk population.
"We thought that Tai Chi might be a good option for these people because you can start very slowly and simply and, as their confidence increases, the pace and movements can be modified to increase intensity," said Elena Salmoirago-Blotcher, M.D., Ph.D., lead author of the study and assistant professor of medicine at the Warren Alpert School of Medicine at Brown University. "Tai Chi exercise can reach low-to-moderate intensity levels. The emphasis on breathing and relaxation can also help with stress reduction and psychological distress."
Read more at American Heart Association
Photo credit: Atelierdreiseitl via Wikimedia Commons