Eating Together as a Family Helps Children Feel Better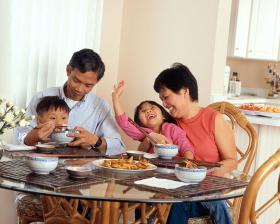 Children who routinely eat their meals together with their family are more likely to experience long-term physical and mental health benefits, a new study shows.
Université de Montréal doctoral student Marie-Josée Harbec and her supervisor, pyschoeducation professor Linda Pagani, made the finding after following a cohort of Quebec children born between 1997 and 1998.
The study is published today in the Journal of Developmental & Behavioral Pediatrics.
"There is a handful of research suggesting positive links between eating family meals together frequently and child and adolescent health," Pagani said. "In the past, researchers were unclear on whether families that ate together were simply healthier to begin with. And measuring how often families eat together and how children are doing at that very moment may not capture the complexity of the environmental experience."
Read more at University of Montreal
Photo credit: Rhoda Baer via Wikimedia Commons