Olympic Champ Has Plan To Beat Beijing Pollution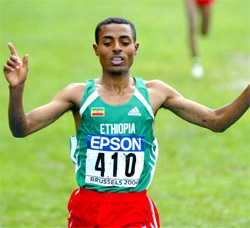 OSAKA, Japan (Reuters) - Ethiopian world and Olympic 10,000 meters champion Kenenisa Bekele said on Tuesday Beijing's pollution could affect how he prepares for next year's Games.
"The weather conditions are not good, but this is not only for me, but for all," Bekele told a news conference.
"I can't do anything about it, so I will concentrate on my training. I am not concerned about it."
But both Bekele and his manager, former runner Jos Hermens, said the world record holder might alter his run-up to the Games because of the heat and pollution expected in Beijing next August.
"We have an A, B and C plan," Hermens told Reuters in an interview. That could include training in another country or area, he indicated. "It is still a secret."
IOC president Jacques Rogge said earlier this month endurance sports might need to be postponed or delayed to another day because of the Beijing pollution.
Hermens also expressed concerns.
"But I must say it has concerned me many times at many Olympics and world championships, and actually it was not so bad as expected," Hermens said.
"I am sure the Chinese will do their best and we can adjust our training."
Bekele said he would defend his 10,000 meters title in Beijing and might consider the 5,000 as well.
"It all depends on how he recovers (from the 10,000)," Hermens said.
The 25-year-old Bekele claimed his third consecutive world 10,000 meters title on Monday, sprinting away from compatriot Sileshi Sihine on the final lap.
Only Ethiopian legend Haile Gebrselassie has more world titles in the event with four.
Bekele said there is a chance he might go for five or concentrate on other events in the future.
He also said he would try to start another string of world cross country titles next year.
The domineering Ethiopian had won five consecutive championships before succumbing to the heat of Mombasa, Kenya, and not finishing the March 2007 race.