Greenpeace Ship Arctic Sunrise Stops Coal Shipment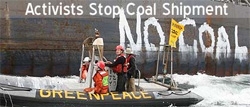 Toronto, Canada — The Greenpeace ship Arctic Sunrise has stopped shipment of coal from reaching the Nanticoke Generating Station on Lake Erie, preventing the coal freighter Algomarine from delivering its dirty cargo.
Nanticoke is the largest coal fired power plant in North America and Canada's largest source of greenhouse gas emissions that are the cause of global warming. The power plant is also Ontario's biggest source of pollutants that cause smog, which is responsible, it is estimated, for the death of nearly 6,000 people in the province every year.
Dalton McGuinty's Liberals committed in the last election to phase out coal power stations by 2007. He broke that promise and now these plants are kept operating because existing nuclear power is unreliable. At the peak of a heat wave in Ontario this summer, three reactors were down, resulting in nearly 20 per cent more coal being burned. Coal also continues to be burned to allow time for a new nuclear mega-project to be completed sometime in the next 10 to 15 years.
McGuinty now says he will close all coal power plants by 2014, but that is another promise just waiting to be broken, says Greenpeace energy campaigner Shawn-Patrick Stensil. "Greenpeace intends to make energy an election issue," he said. "We are challenging Ontario's political leaders to commit to modern energy solutions that can be deployed today to shut down Nanticoke by 2012."
According to a study by World Wildlife Fund and Pembina Institute released in August, Ontario's continued reliance on nuclear power will delay the phase out of coal power until 2017. The study says the McGuinty government is misguidedly relying on aging nuclear stations to last longer and perform better than they have historically to meet its 2014 target.
"Nuclear power is a dangerous distraction that won't shut down Nanticoke for another decade or help Canada meet its Kyoto targets," affirmed Stensil. "Ontarians are not going to fork over $40 billion to nuclear energy and continued reliance on coal when there is a better option on the table."
Greenpeace says the choice amounts to endorsing global warming for at least three more years and radioactive waste for a million years, versus a safe, clean and cheap electricity system based on aggressive conservation, renewable energy and local generation. The technology to build a sustainable, environmentally-friendly energy future is available today; all that is lacking is political leadership.
To fill that gap, Greenpeace supporters and the public are being asked to contact political leaders to press them for a commitment to green energy.