Coke Launches Lighter Bottles That Use Less Plastic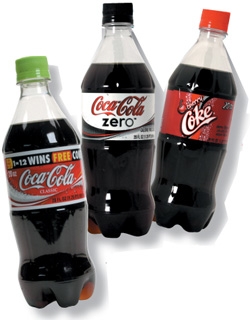 NEW YORK - Coca-Cola Co said Tuesday it launched a new 20-ounce plastic bottle for its cola drinks that uses 5 percent less plastic, in a bid to please some critics of the beverage industry who claim its reliance on plastic aides global warming.
The new bottles for Coca-Cola, Diet Coke and Coke Zero, which also have ridges to make it easier to grip, will be available nationwide by early next year, the Atlanta-based drink maker said.
The world's largest beverage company has already lightened the weight of its Dasani water bottles. Rivals PepsiCo Inc and Nestle have done the same with their respective water brands Aquafina and Poland Spring.
The announcement comes a day before Coca-Cola is slated to unveil other environmental initiatives.
Last week the Wall Street Journal reported that Coke was planning to build a plant that will be able to recycle as many as 2 billion 20-ounce bottles a year, but that Coke declined to say exactly where the plant would be or when it would open.
The political and environmental opposition to the beverage industry, and bottled water in particular, has grown in recent months, with several US mayors taking action aimed at eliminating bottled water.
Critics charge the beverage industry adds plastic to landfills and uses too much energy by producing and shipping bottles across the world. (Reporting by Martinne Geller)