Shell Argentina denies pollution charges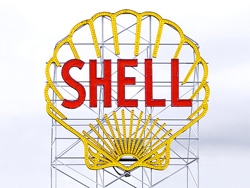 BUENOS AIRES (Reuters) - Shell defended its environmental record in Argentina on Thursday and warned of possible domestic energy shortages after the Argentine government shut the company's only refinery in South America on charges of pollution.
The closure marked an escalation of tensions between Royal Dutch Shell and the center-left government of President Nestor Kirchner. The two sides have repeatedly clashed over energy pricing and supplies.
"None of our soil samples indicated that our contamination levels are above acceptable levels for industrial areas," Shell Argentina President Juan Jose Aranguren told reporters.
He said the company will call on the government to reconsider its decision to close the refinery on the outskirts of Buenos Aires, where Shell refines nearly 100,000 barrels of crude oil a day, mostly destined for the domestic market.
The closure opened a new chapter of confrontation between Shell and Kirchner, who two years ago exhorted Argentines to avoid buying "not even a can of oil" from the company after it raised prices.
A tacit agreement between oil companies and the government reached during Argentina's 2001-02 crisis has kept gasoline and diesel prices below international values. Worried about inflation, the government has resisted energy company calls for price increases.
In a move that angered Shell officials, the government hit the company with some $1.6 million in fines against its local executives recently, claiming the company failed to keep up supplies in the domestic market.
Shell's refinery facility represents 15 percent of refining capacity in the country and provides nearly 20 percent of domestic gasoline supplies.
The company has not been able to export any products since June because the government has denied its exportation requests, Aranguren said.
Kirchner has sought to keep inflation in check as the economy has grown more than 8 percent a year since 2002 by striking price accords with business leaders.
Aranguren said the company's own monitoring of water and soil samples showed its pollution within legal limits.
Because of the closure, he said the firm was advising service stations in the country it cannot supply gasoline or diesel, citing "force majeure."
Shell officials were planning to meet with government officials on Thursday and Friday and are seeking an agreement to relax the closure, he said.
Aranguren said it was too early to calculate the financial cost of having the refinery shut but insisted the company planned to continue operating in the country.
In April, Royal Dutch Shell ceded control Sakhalin-2 -- the world's largest liquefied natural gas project -- after Russia's environment watchdog charged it with ecological violations, including deforestation and pipeline leaks.
Aranguren has publicly claimed Shell Argentina is being targeted by government officials.
Last year, the government moved to prevent Shell from selling a premium diesel fuel above market prices.
Days after the company unveiled the new fuel, the government published a retroactive decree forcing energy companies to obtain permission before launching new products, which effectively forced the company to halt sales.
(Additional reporting by Hilary Burke and Cesar Illiano)