FEMA Investigates Emergency Housing Air Quality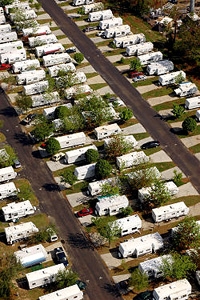 Washington - The Federal Emergency Management Agency (FEMA) announced in August 2007 that it had suspended the installation, sale, transfer, and donation of emergency-housing trailers until concerns over high levels of formaldehyde can be investigated.
A common ingredient in pressed-wood products, including particleboard, formaldehyde can cause eye, nose, and throat irritation; wheezing and coughing; fatigue; skin rashes; headaches; nosebleeds; and severe allergic reactions. The U.S. Environmental Protection Agency considers formaldehyde a probable human carcinogen, and the International Agency for Research on Cancer calls it a known human carcinogen.
In addition to halting future uses of the trailers, FEMA has also agreed to find alternate housing for any trailer occupant who requests it and, for those who have purchased trailers from FEMA in the past year, to refund those purchases. The agency will also pay to relocate those who can't find alternative housing in their immediate areas to anywhere in the continental U.S. About 56,000 families currently live in FEMA trailers—mostly in areas affected by the September 2005 hurricanes Katrina and Rita.
Health and environmental experts from the Centers for Disease Control and Prevention (CDC) and the U.S. Department of Homeland Security are now testing the air quality in FEMA trailers throughout Louisiana and Mississippi, FEMA reported. The agency noted in an August 1 statement that "formaldehyde is commonly used in building materials and is prevalent in the environment," and said it made the decision to suspend use of the trailers "out of an abundance of caution."
FEMA has also asked experts to identify an acceptable air quality level for formaldehyde in trailers. While the construction of mobile homes and other manufactured housing is subject to regulations—including formaldehyde limits—from the Department of Housing and Urban Development (HUD), FEMA trailers fall under recreational vehicle classification because they are designed for temporary habitation, not long-term housing, according to FEMA, and therefore are not regulated by HUD.
The Agency for Toxic Substances and Disease Registry, a sister agency to CDC, has set minimum risk levels for exposure to formaldehyde below which a person would be unlikely to experience any ill effects. The minimum risk level is 0.04 parts per million (ppm) for one to 14 days of continuous exposure, 0.03 ppm for up to one year of continuous exposure, and 0.008 ppm for exposure that exceeds one year. Formaldehyde levels of more than 1 ppm (25 times the highest risk level) have been measured in some FEMA trailers, and some have been almost continuously occupied for nearly two years.
In related news, more than 500 South Louisiana residents have filed a lawsuit against 14 manufacturers who sold trailers to FEMA in the aftermath of the 2005 hurricanes. The lawsuit, which does not list FEMA as a defendant, accuses the manufacturers of exposing the plaintiffs to dangerous levels of formaldehyde and requests that they remove from the trailers any materials containing formaldehyde and pay for medical monitoring to determine whether the formaldehyde has caused health problems for the plaintiffs.
One study published in the Annals of Emergency Medicine in May 2007, although not establishing a link to formaldehyde, suggests that the health problems of trailer occupants are dire. The study reports that, among people living in FEMA trailer parks in Louisiana and Mississippi, half meet the criteria for major depression, which studies have shown can be caused by exposure to the levels of formaldehyde often found in mobile homes. Respondents were also 14 times more likely than normal to contemplate suicide and 78 times more likely to attempt it.