US Airlines Don't Want To Play By EU Emissions Rules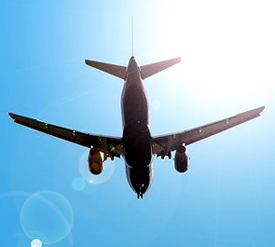 BRUSSELS (Reuters) - A European Parliament committee sought on Tuesday to delay the inclusion of all airlines in the European Union's emissions trading scheme to 2012.
The executive European Commission proposed last year that inter-EU flights be included in the EU scheme, aimed at reducing greenhouse gas emissions, from 2011, while international flights into and out of the bloc should be included from 2012.
The parliament's transport committee, whose opinion is not binding but will be considered by the lead environment committee, suggested all flights be included from 2012 so that airlines are treated equally.
The emissions trading system is the EU's key tool to battle global warming and meet commitments agreed under the Kyoto Protocol.
It sets limits on the amount of carbon dioxide (CO2) big industries may emit and allows them to buy or sell allowances based on whether they overshoot or undercut their targets.
The aviation proposal has drawn sharp criticism from the United States and other countries who object to their air carriers being included in the EU scheme.
The transport committee also voted to limit the number of CO2 permits that airlines have to buy to 20 percent of their total quota of allowances. The rest should be given to them free of charge, the committee said.
The committee suggested a later date be used as a base for determining future airline emissions limits. It backed 2007-2009 instead of 2004-2006, as proposed by the Commission.
The aviation proposal is expected to be put to a vote before the full parliament later this year.
© Reuters 2007. All rights reserved.