EasyJet boss calls for polluter tax on planes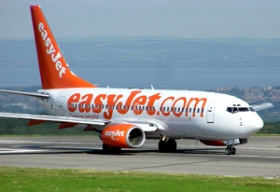 LONDON (Reuters) - British low-cost airline easyJet called on Tuesday for the government to scrap airport taxes on passengers and replace them with taxes on aircraft that penalize the heaviest polluters.
EasyJet Chief Executive Andy Harrison told reporters at a briefing at the World Low Cost Airlines Congress in London that there were roughly 15 types of passenger aircraft, and the system should be banded to take account of their fuel efficiency.
EasyJet runs a relatively young fleet of planes that are more fuel-efficient than older models.
Britain doubled air passenger duty in February, citing the need to tackle climate-damaging CO2 emissions, and taking the tax on short-haul flights to 10 pounds ($20) .
The move has hit domestic aviation hard, and has drawn criticism for unfairly excluding freight and private business jets.
"The time has come to scrap air passenger duty in its current form and replace it with a polluter tax," said Harrison.
He said he had taken his proposals to the Treasury, but was unsure of their response, but his thoughts had been more warmly received by the opposition Conservative and Liberal Democrat parties.