1 Million Chinese-made Cibs Recalled; Linked To 2 Infant Deaths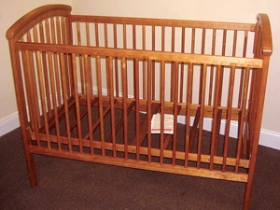 WASHINGTON (Reuters) - Simplicity Inc., a supplier of baby furniture to Wal-Mart Stores Inc. and other big retailers, is recalling about 1 million Chinese-made baby cribs which have been linked to at least two infant deaths, the U.S. Consumer Product Safety Commission said on Friday.

The drop-side can detach from the crib, which can create a dangerous gap that leads to an infant being trapped and suffocated, the safety agency said in a statement. It urged parents to check all Simplicity-made cribs to ensure the drop-side is installed correctly.

The cribs, priced between $100 and $300, were sold by U.S. retailers and chains including Target Corp., Big Lots Inc and family-owned Meijer Inc.

"The drop-side failures result from both the hardware and crib design, which allow consumers to unintentionally install the drop-side upside down," the safety commission said. "This, in turn, can weaken the hardware and cause the drop-side to detach from the crib. When the drop-side detaches, it creates a gap in which infants can become entrapped."


Two separate infant deaths involving a 9-month-old and a 6-month-old occurred when cribs with older-style hardware had the drop-side installed upside down, the agency said.

The CPSC said it was also investigating a third death that had newer-style hardware. The agency has received reports of seven infant entrapments involving the recalled products.

"CPSC is also aware of two incidents that occurred when the drop-side was correctly installed with older style hardware, though the upside down installation greatly increases the risk of failure," the agency said.

Although the cribs were made in China, the safety agency downplayed that aspect of the massive recall.

"This recall isn't a China-made problem. It's more about hardware and crib design and less about it being assembled in China," a CPSC spokeswoman said.

China has been in the spotlight for a series of recent recalls involving products ranging from lead-painted toys to tainted toothpaste and pet food.

Simplicity, a family-owned company in Reading, Pennsylvania, said it would provide a free repair kit to consumers with the recalled cribs.

The company said two infant deaths were due to a drop-side failure in the cribs. "We believe the other reported incidents were the result of either improper assembly or other external factors," Simplicity President Ken Waldman said in a statement.

The recalled Simplicity crib models, which were detailed on the company's Web site at www.simplicityforchildren.com, include:

* Aspen 3 in 1

* Aspen 4 in 1

* Nursery-in-a-Box

* Crib N Changer Combo

* Chelsea

* Pooh 4 in 1

* Ultra 3 in 1 (Graco logo)

* Ultra 4 in 1 (Graco logo)

* Ultra 5 in 1 (Graco logo)

* Whitney (Graco logo)

* Trio (Graco logo).

(Reporting by Julie Vorman)